LabGuy's World: Akai TV Tuner and other accessories
---
New Entry! 03.05.13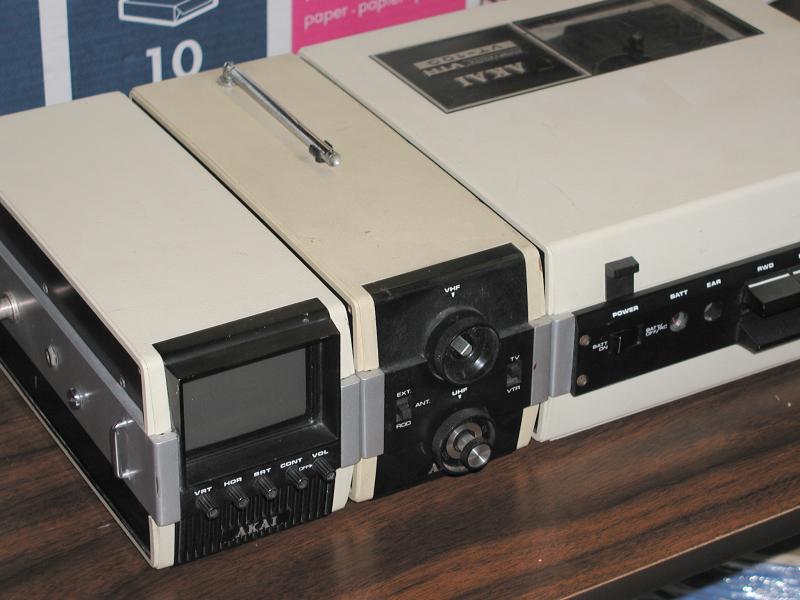 Akai Television Receiver Module!

.
The TV receiver module allowed the owner of most Akai portable VTRs to record programs off the air. The one exception is the VT-100, which has not got the ability to record from an external source. Sadly, this tuner is missing both of the main knobs for VHF and UHF. The outer case has been exposed to a great deal of sun light over the years. This is evident by the yellow tint relative to my VT-100S.
This tuner sits between the VTR and the 3" sidecar monitor. It is actually a simple matter to make the tuner and monitor into a stand alone television. You need only provide the pair 12 volts DC through the VTR connector. See the CONNECTORS PAGE for details.
This module contains two tuners, one for VHF channels 2 through 13, and the other for UHF channels 14 through 83. It has a built in extending rod antenna or an external antenna may be connected and selected with the slide switch on the left. The right hand switch selects between VTR and TV, just like on a modern VCR!
OTHER ACCESSORIES WILL BE ADDED AS THEY ARE DISCOVERED!
---
[HOME]......[VIDEO RECORDERS MUSEUM]
---
Last updated: January 09, 2005