LabGuy's World: Audiotronics PVR-708 B/W EIAJ Editing VTR
---
02.03.11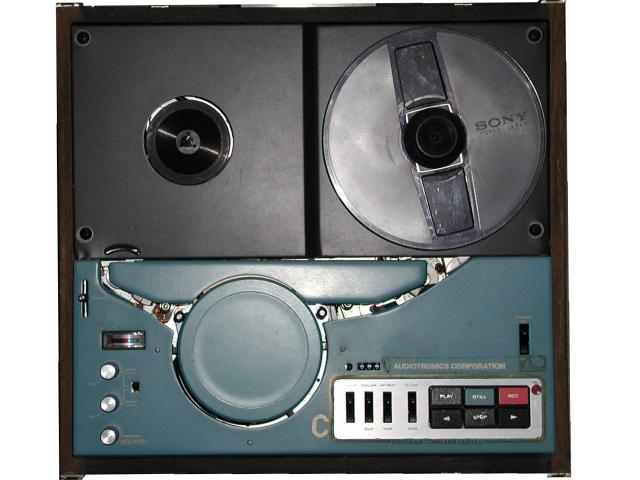 Audiotronics PVR-708 B/W EIAJ Videotape Recorder
.
Wow! Here is a very rare artifact! This is the Audiotronics PVR-708 EIAJ VTR from around 1974? You remember Audiotronics, don't you? They made those bullet proof record players we all played with in grade school! I swear, you couldn't break one of those with a hammer! The heavy duty construction is quite apparent in this product as well.
I have very little information about this particular machine, other than what I can observe. One unique feature of this deck is the audio jacks. They are European style 3 pin DIN connectors. I have never seen these on any VTR before now. The video in and out jacks are the BNC type. These would have appeared much later than the early 70's, so does that mean anything? From my quick inspection of the unit, I have not been able to determine who the original manufacturer was. As the rumor goes, no companies actually manufactured their own (small format) VTRs in America. The head drum, in this unit, is definitely from Matsushita, but that could have been purchased as a sub assembly by Audiotronics. I don't know. Do you know who made these machines?
Allegedly, this is the B/W "roll free" editing version of the series. The series consisted of the three models. The other two were the PVR-707 B/W basic VTR and the PVR-709 COLOR editing VTR. Up to now, the only info I've found for these machines came from my good friend Matt Patoray in the way of a scanned magazine advert. [See it here.] All three models were based on one unit with options installed as to the customer's desire.
This machine has not been stored well over the years and it shows. It may have been serviced by an inexperienced tech too from the looks of it. The rubber belts and wheels are too far gone to seriously consider restoring this machine at this time.
NEEDED: Service manual and or Operators manual and or any other literature or history about this product.
---
[HOME]......[VIDEO RECORDERS MUSEUM]
---
Last updated: January 09, 2005