LabGuy's World: Chester Newell, Tape Recorder Prototypes
---
NEW! 080530
Thanks go to Hal Layer for bring us these marvelous examples of Newell technology. Purchesed at the bankruptcy auction in 1977, and carefully stored and preserved all these years, here they are now for us all to enjoy.
---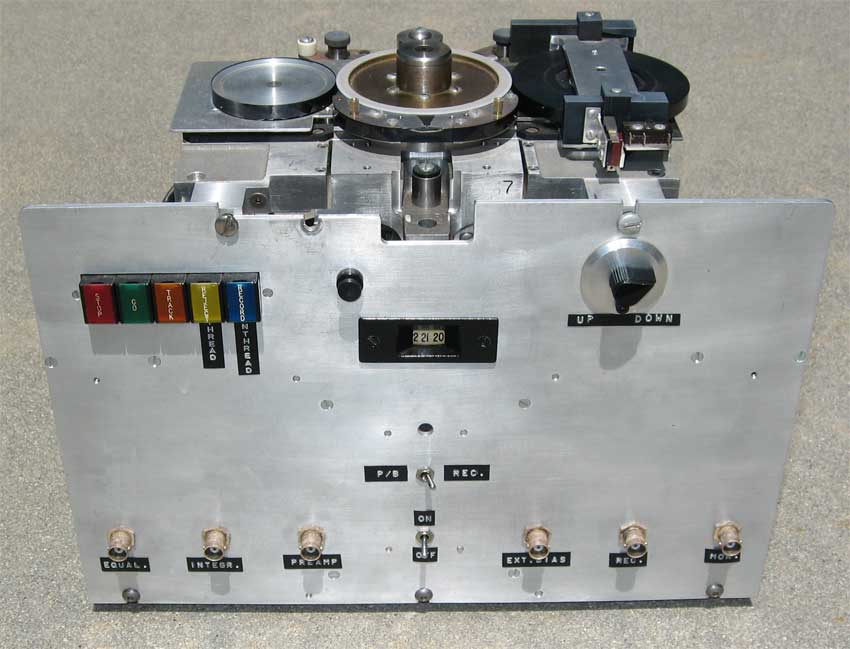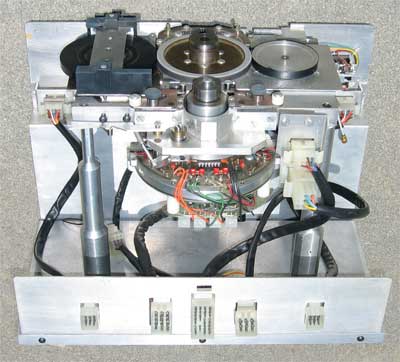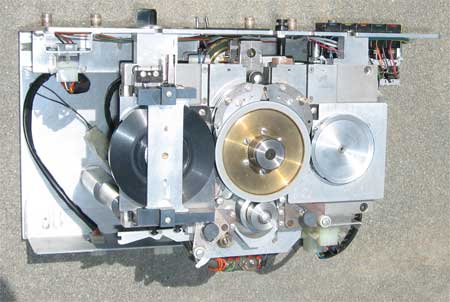 Newell Prototype Audio Test Bed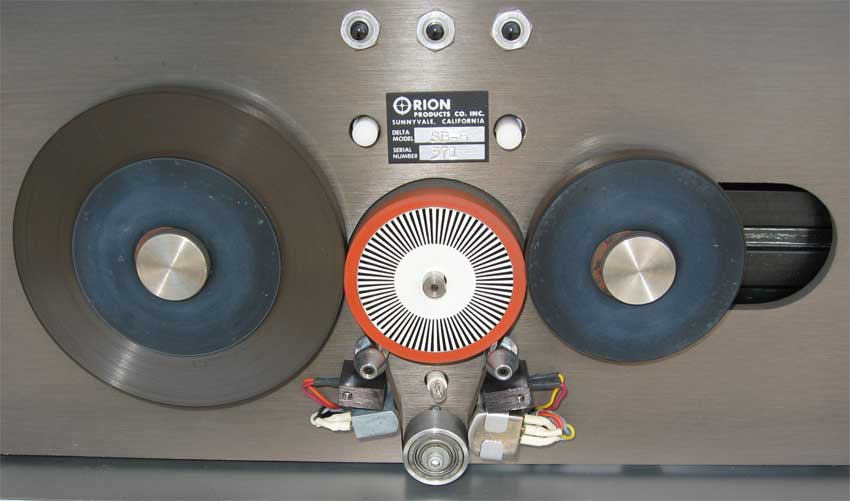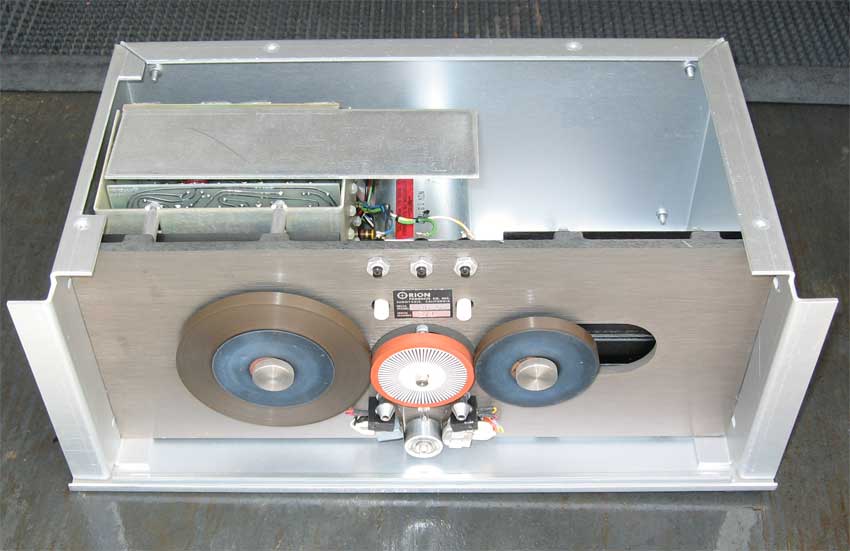 Newell Orion SB-5 prototype data recorder
---
Above are the oiginal photos of the two prototype tape recorders provided by Hal Layer in May of 2008. These were further identified and elaborated on by Merv Falk via Marcel Snijders, an author who has been documenting Newell technolgy for several years now. Here is a synopsis of what Merv had to say:

WOW! Marcel,

I had no idea that there was so much interest out there in the old Newell technology. Shortly after Ches died, I assisted Joyce in disposing of the remaining assets (prototypes, test beds, parts, manuals, drawings and so forth). Stuff that was occupying three storage lockers, which she no longer wished to keep paying for. A couple of years ago, I got rid of most of my remaining memorabilia, including the TV console in which I had installed a more modern TV set. Yes, I certainly know this home video system intimately. I (and my team) designed and built the whole thing to demonstrate feasibility of using the Newell drive for home color recording/playback. So, whatever you would like to know, I may still remember and be able to answer. If you will notice the label on the following, it is Orion.

Orion was a company started by former employees of Newell Associates. It was headed by Ted Barger. John Woods, Robert Peyton and Richard Charlton joined him. They were given a restricted license to the technology. Initially, Orion derived its income by refurbishing rotary head assemblies for Ampex and RCA broadcast VTR users. They had the equipment to replace the four 'dimes' that held the Alfesil heads; slip-rings and high-speed bearings. They were to promote the Newell configuration into the 'Instrumentation' market. This model was equipped with audio heads.

(Speaking of the audio test bed) While this audio recorder/player was developed in my engineering operation, I didn't work on it directly. I believe that it was to demonstrate:
Removable tape pack, complete with a self-threading leader fastened to the outer end of the tape.
When the pack was inserted, the pack would slowly turn until the end of the leader was found. It would then be unpeeled and fed around the capstan until it gripped the aluminum takeup hub.
This leader had gripping fingers that would hold it in place on the tape pack or, when threaded, the takeup hub. It was precisely the length of the hub circumference so that there would be minimum bump during high-speed searches.
Here we have the Broadcast VTR. This had been developed before I arrived in 1964.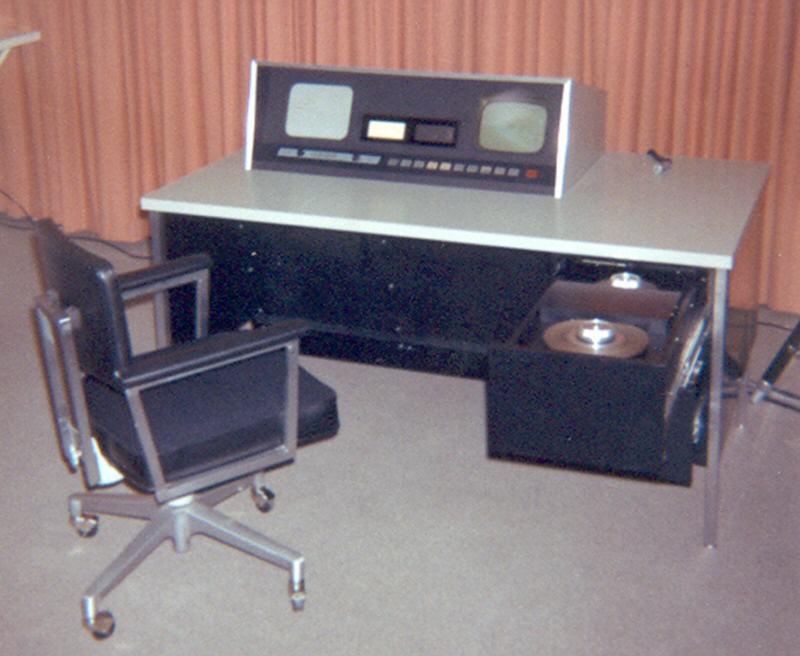 The drives were in two drawers, the one shown here, and a similar one just below it. The idea was to ping-pong the two drives. That is, as one would near the end of its pass, the second would suddenly start, synchronize, and deliver the signal. A TBE (Time Base Error corrector would take care of any residual 'glitch'. The head assembly on the resting drive would be indexed to the next track and wait for its next turn.

One other thing that I did find, Marcel, was a proposal, dated 12 August 1968, for an "Ultra High Speed Tape Recorder" that was submitted to the US Army. Newell Industries set up a manufacturing operation, headed by Vin Carver. This particular recorder eventually became known as the the ADR 2015, and a number were sold to the military for capturing bursts of data that were dumped, as satellites flew overhead. John Isabeau headed up this production engineering, while I continued to work on R&D.

Best wishes-
~~Merv
---
More photos and information to come. Stay tuned.
---
[HOME] [VTR PEOPLE]
---
Created May 30, 2008 Last updated: July 3, 2009