LabGuy's World: Early Television Foundation Convention 2010
---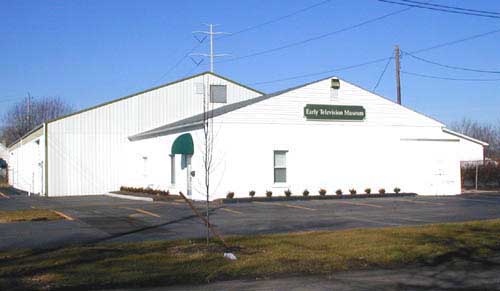 I have just returned from the [Early Television Foundation] convention held in Hilliard, Ohio, April 23-25. Hilliard is located just outside of Columbus. What an event! Holy cow!!! While there, your humble Labguy encountered pre and post war television sets, mechanical televisions and field sequential televisions. Did I mention the televisions? Hundreds of wonderful examples of television history. Remarkably, many of them are fully operational.

Labguy finally got to meet many of his fans. And they, me. It was like old home week in that respect. I aslo met many new friends and acquaintances. The email is busier than ever for now. Thank you all, whom have contacted me since the convention.

The event was hosted by Steve McVoy, curator of the museum. He is a warm and gracious host. Attendance numbers were just over 100. Many fans of Labguy's World web site were present as well and I am still glowing from all the warm praise that they showered upon me. I had a lot of praise for the people I already knew as well. Thank you all and most especially my warmest thanks to Steve McVoy.

---
Saturday Evening, The Presentations:

I had the privelege of giving the first presentation on the arrival of home video tape recording. The talk covered the development trend of the hardware itself with a very light primer on video head scanners. The presentation covered twenty years of excellent video hardware history in a little over 30 minutes. A tough assignment to say the least. The experience was very satisfying.




Labguy's presentation starts at around 11 minutes into this web cast.


---
John Folsom and Bob Galanter covered the rebuilding of the 15GP22 picture tube, an on going project that must be burning through money. I would never have believed you could use an electric arc to erode the welds holding the cathodes inside the grid cups of an electron gun. (I would have used a calibated number twelve hammer myself.) John and Bob have rebuilt several tubes so far with limited success and many failures. I can not adequately express the complexity of this project here. Their project remains on going.


---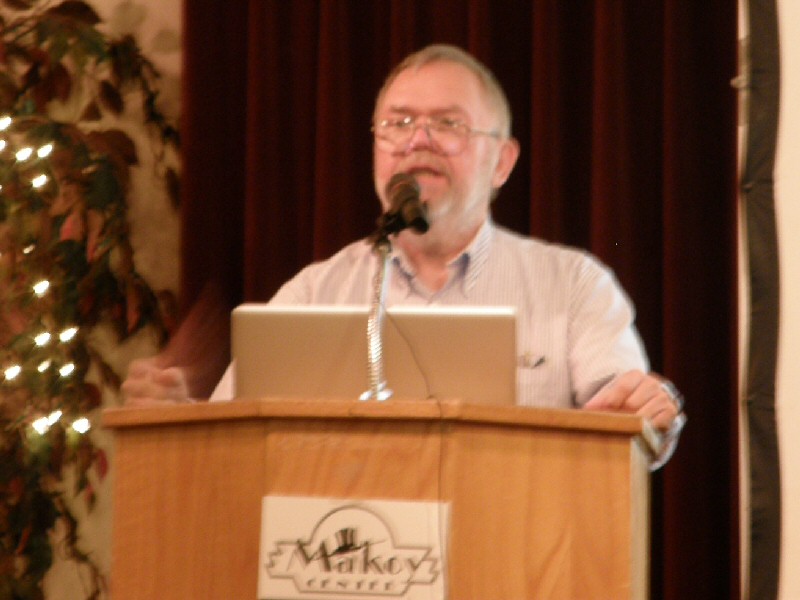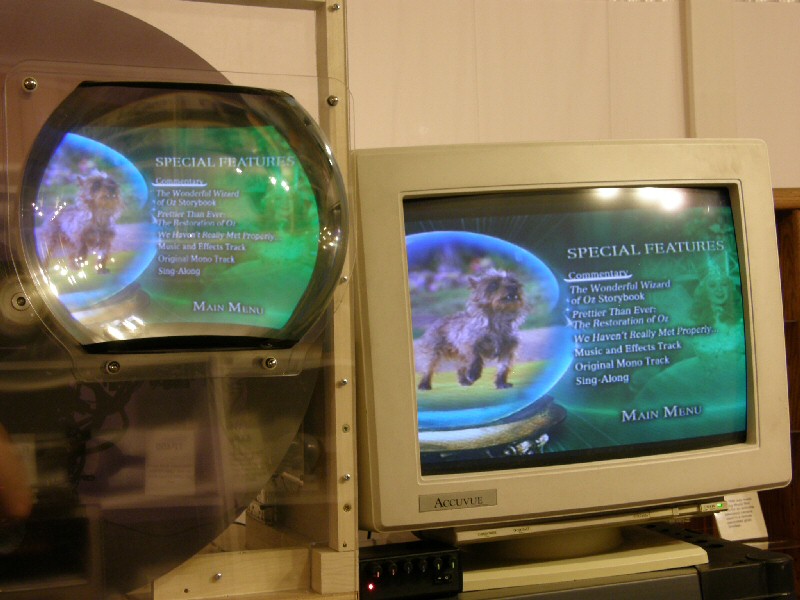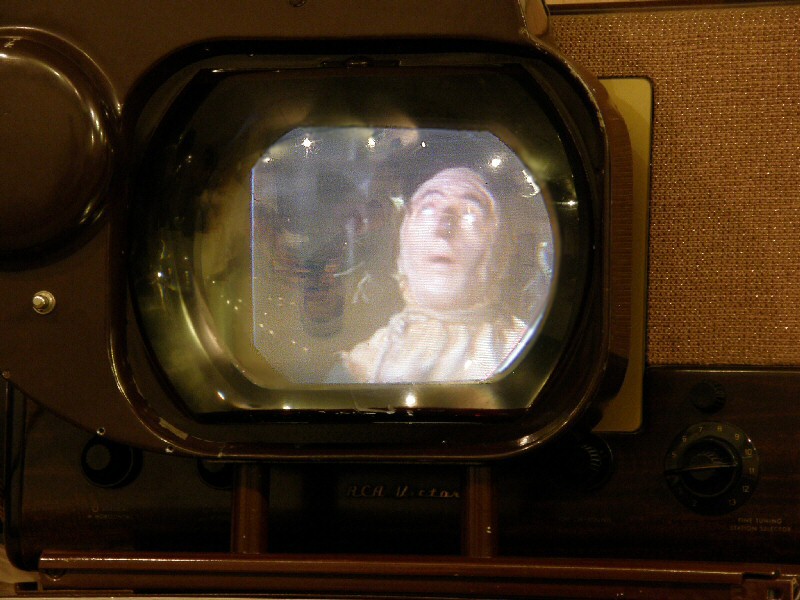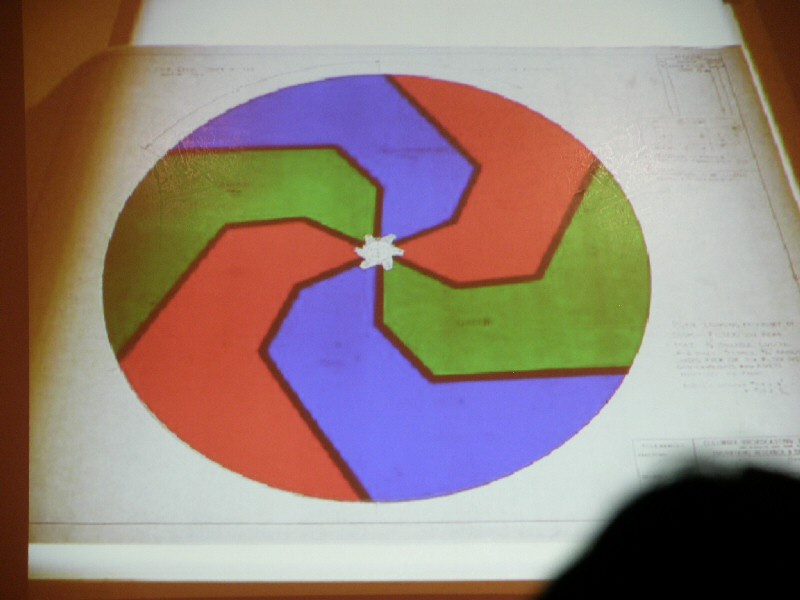 Cliff Benham gave a scintillating talk on his path to selecting perfectly optimized color filters for his reproduction CBS field sequential television monitor. He also displayed his 'no-wheel' CBS tri-color CRT set with some new additions that allow it to display both CBS color and two-color sequential images and a Butterfield "color" camera and a small B&W monitor for it. The butterfiled camera is supposed to induce a sense of colors on the BW monitor. No one I saw staring at it reported positive results. The CBS sets were spactacular in both their performance and in their restoration!


---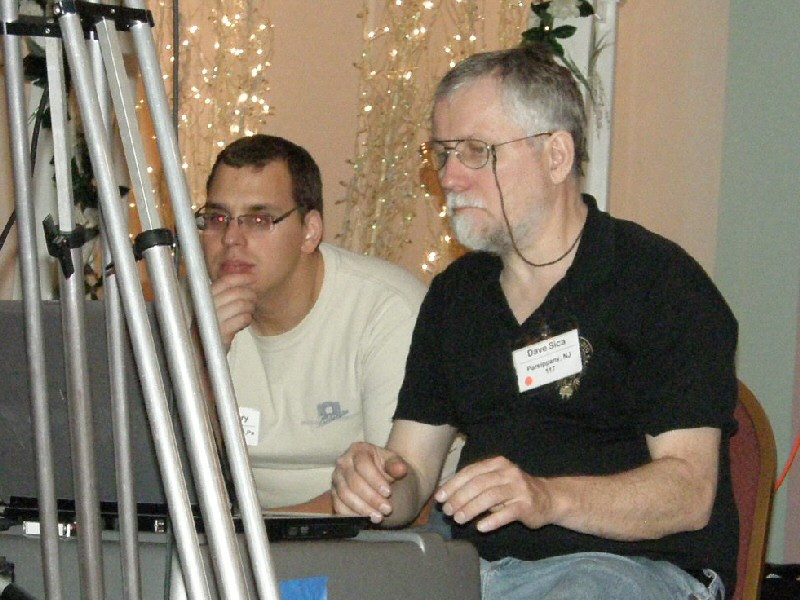 Matt Patoray and Dave Sica handle the task of webcasting the presentations. Matt and Dave are the two earliest contributors to Labguy's World web site. David provided excellent photos and information about Sony skip field recorders. Matt scoured his school library for video magazines and then proceeded to scan everything he thought was appropriate for my site. Thank you, gentlemen. You both have my undying gratitude for all you've done to help make this site into the resource it is today. Thanks to all other people who did the same for the past twelve years.


---
On display for all to see: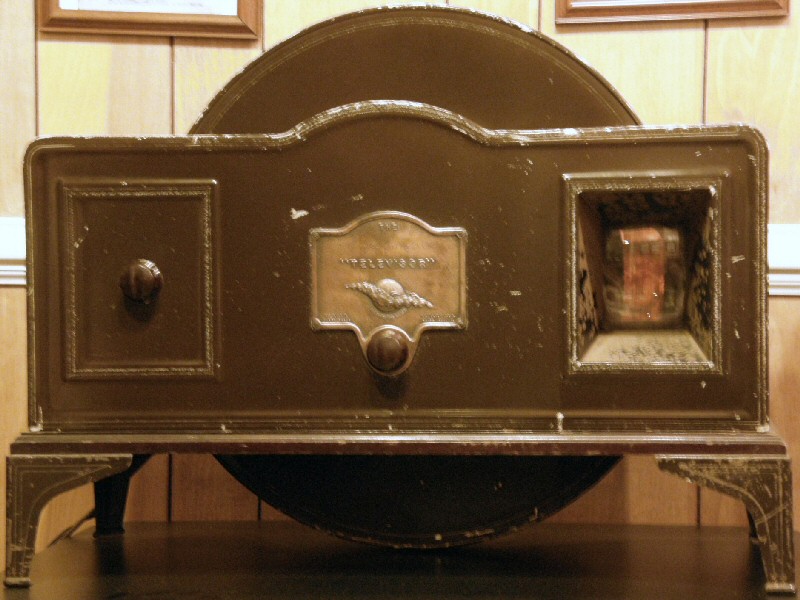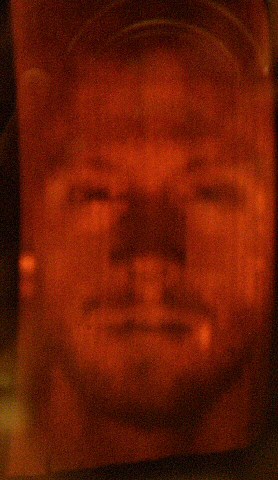 Labguy got to see his first Baird televisor. It was operational! Very noisy, it spun up to speed and made the wonderful picture, which after many tries, I was able to phtograph. The source video is provided from the speaker output of a standard home PC's sound card! The cabinet is made of sheet steel. I always thought these were made of wood.


---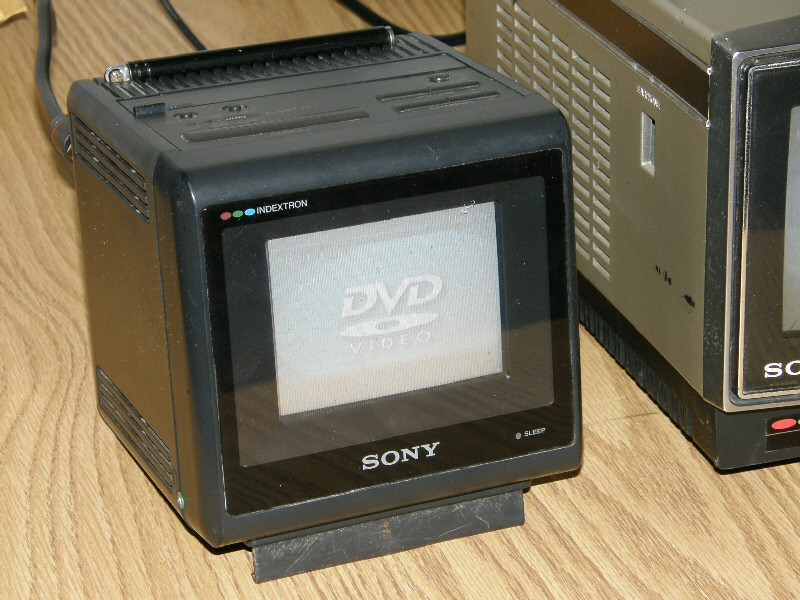 Dave Abramson displayed his Indextron tube TV set. This type of CRT uses a single electron beam to write to all three color phosphors. A fourth color is added, usually ultraviolet, which in turn is picked by a photo sensor behind the screen. The beam sweeps over the index phosphors and produces a signal in the photo detector very similar to the sound made by a playing card placed in the spokes of a bicycle wheel. These pulses tell a special video gate when to send red, green or blue video to the elctron gun's single beam. This is the latest evolution of the "Apple Tube" developed at Philco in the 1950s.
It was also used by Sony in a video projector unit with built-in Betamax VCR. As well as by Sanyo (Hitachi?) in their color tv camera viewfinders. In fact, Labguy recently resurrected one of these viewfinders with the help of members in the [Yahoo OLDVTRs] Discussion Forum.


---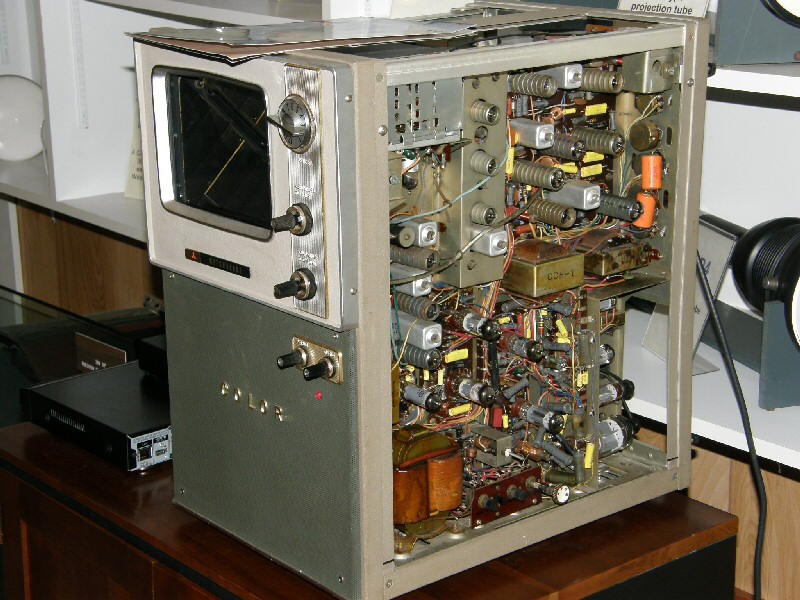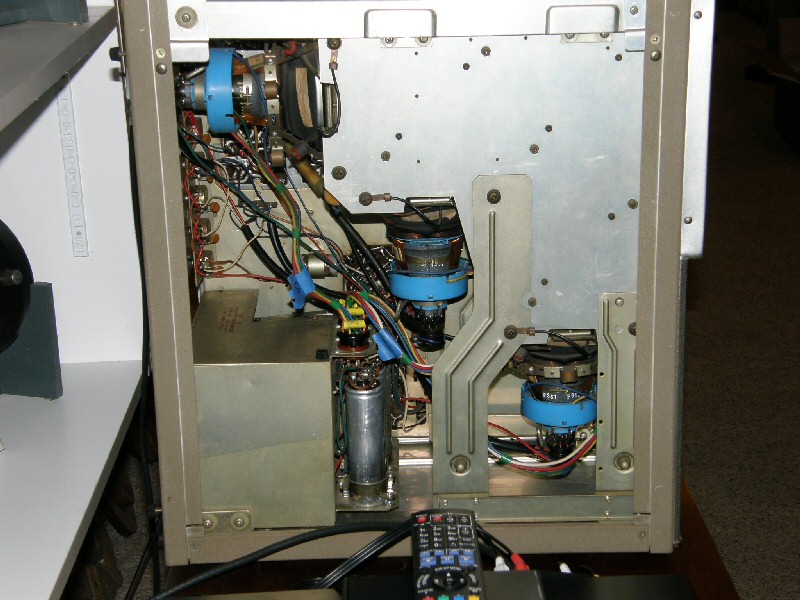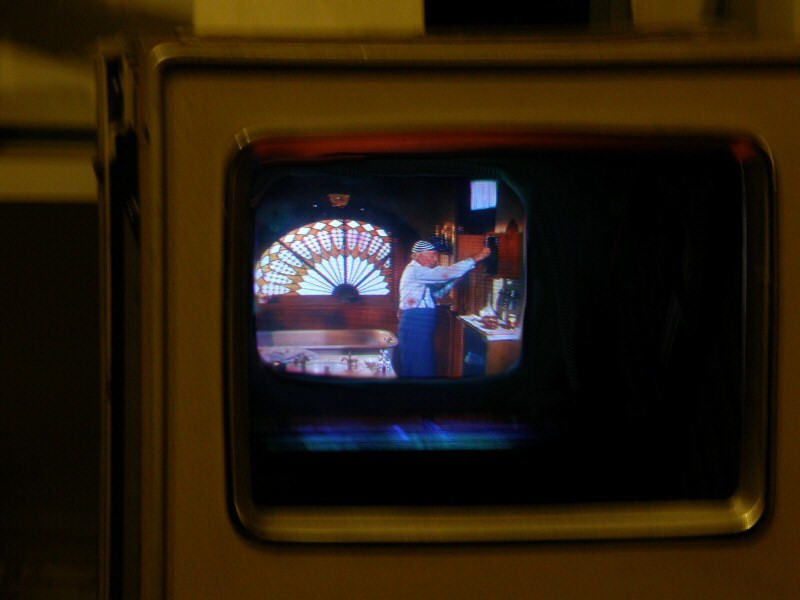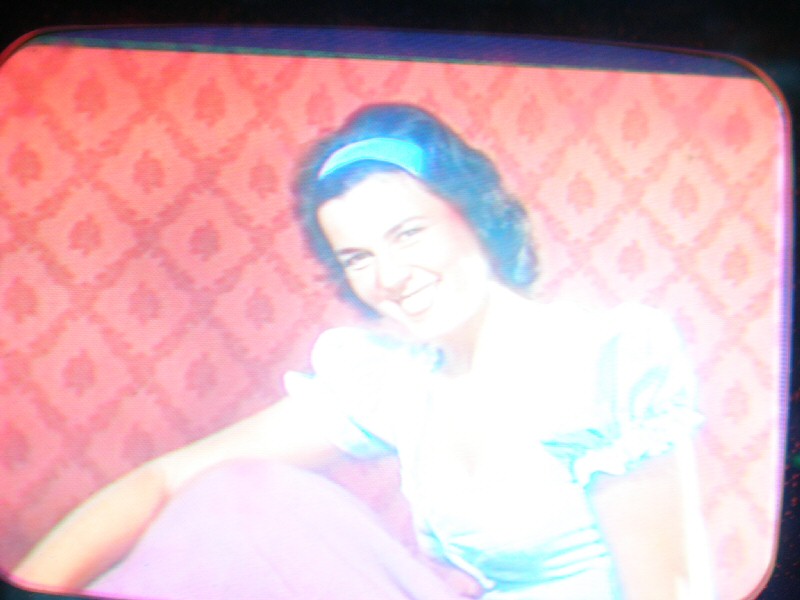 John Folsom displayed his 1964 Mitsubishi 6CT-338 Triniscope television. It uses three separate five inch CRTs. The images are combined with dichroic mirrors to form a full color image. This technique works very well. But, it does have limited viewing angle suited more for a single viewer.

Photo number 1 is of the right side of the chassis revealing the vacuum tube technolgy of the time.

Photo Number two is of the left side of the TV set. You can clearly see the necks and deflection yokes of the three separate CRTs. Each CRT has a different color phosphor. They are each red green or blue. Clever arrangements of mirror filters combine the three seaparte screens for the viewer's eyes.

Photo number 3 is a good photo of the screen superimposed on the picture of the TV set. As you see, the lighting was very poor. But, the image is rich and detailed.

Photo number 4 is the best close up I was able to take with my camera. Though over exposed, it shows the level of detail present and the absence of any phosphor dot structure. Someone asked, "Why use three tubes"? As you can see in this photo, brightness, brightness, brightness!


---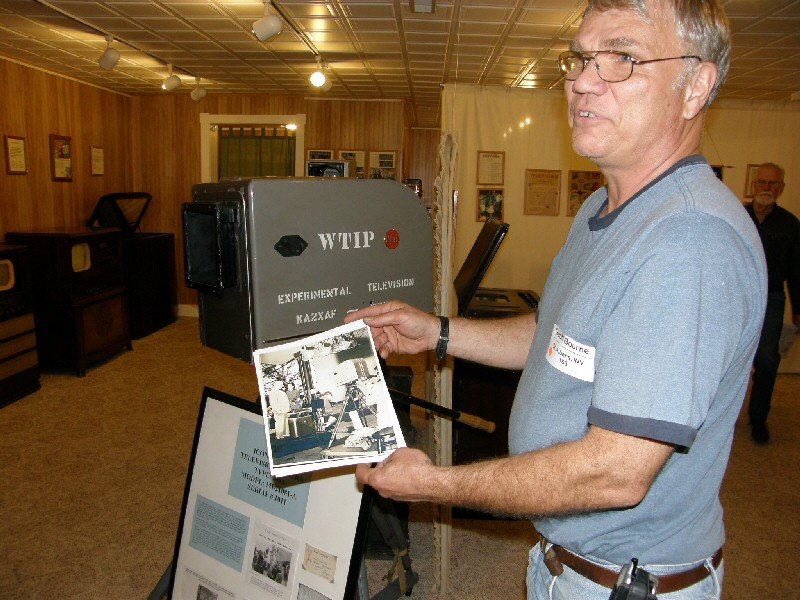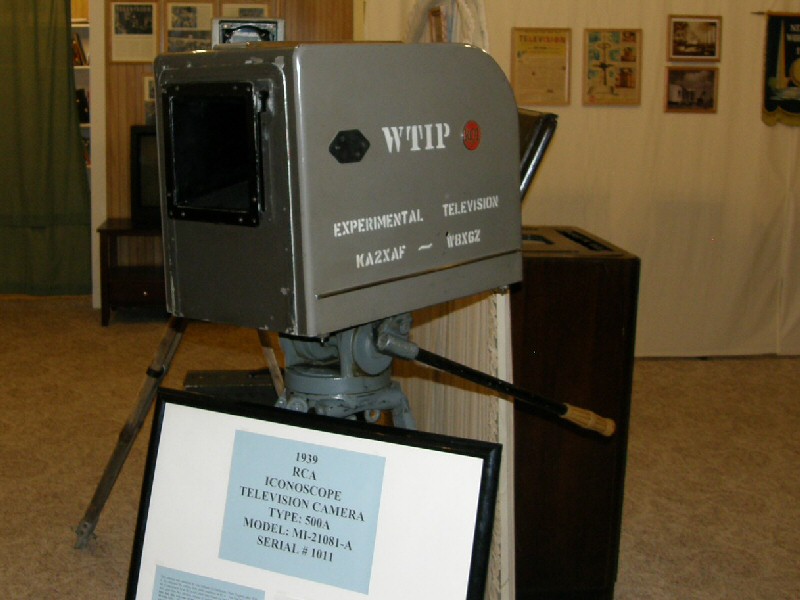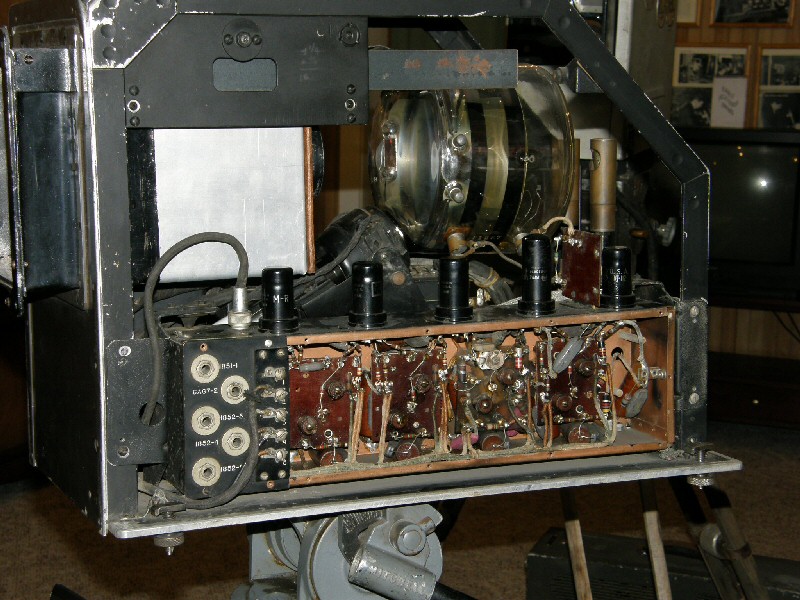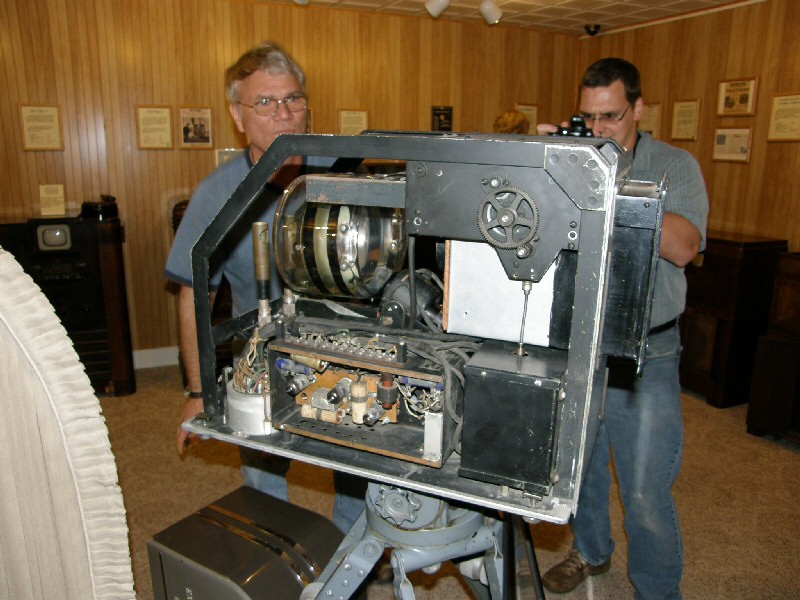 Geoff Bourne, curator of the Museum of Radio and Technolgy in Huntington Virgina, displayed his 1939 RCA studio camera. This is one of the actual cameras on display at the 1939 World's Fair in New York. David Sarnoff stood in front of this camera and made his famous speech declaring the arrival of all electronic television. It was magic to just touch the camera for a moment and wonder what images had passed through its Iconoscope tube eyes.


---
A successfully restored 15GP22 in a CT-100 chassis brought by Pete Deksnis was displayed.


---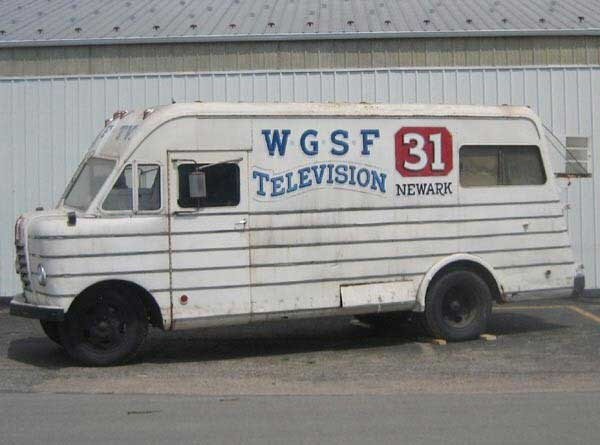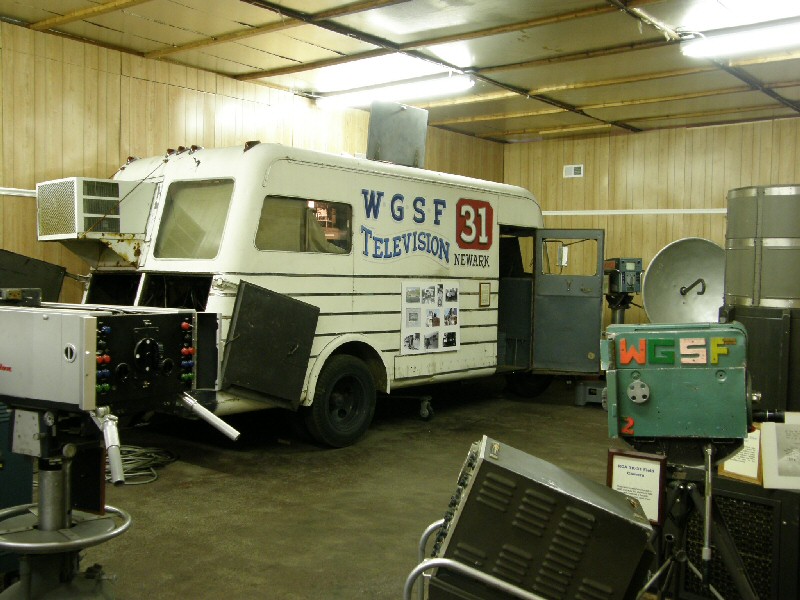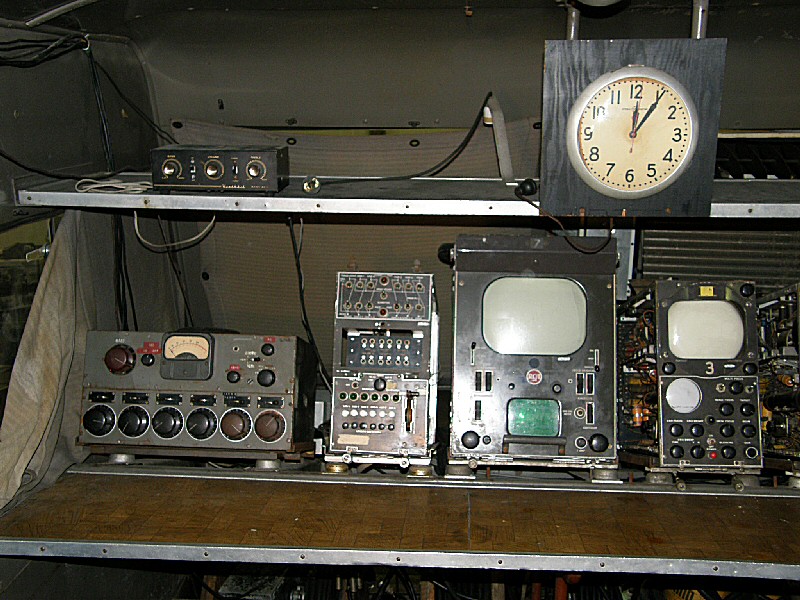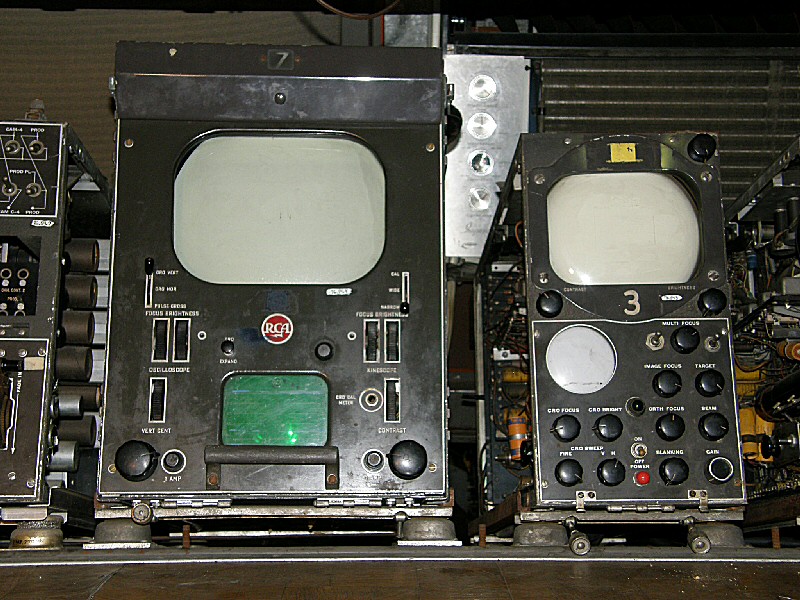 Leland Hubble gave the most entertaining talk about his time at WGSF and the 1948 RCA mobile production van in the late 1960s through the 1970s. An excellent tale, with a great slide show. For those of you with no experience in broadcast, every frame of video you see on TV, coming to you live from a remote, is an entire novel of stories being played out. Lelands telling of the story was rich with humor and fondness for those "good old days". At one point, this van was equipped with an Ampex VR-660C, the rare color version of the two inch helical workhorse VTR.


---
Julian Burke displayed his 1955 DuMont Electronicam (serial #1). There were only 3 sold and the only customer was Jackie Gleason Enterprises.


---
This is far from all of the material discussed and displayed at the convention. I will add more as time permits. If any reader thinks I have missed something, or has some more info and photos to contribute, please drop me an email and I can add it here.


---
Labguy's personal pick for: BEST OF SHOW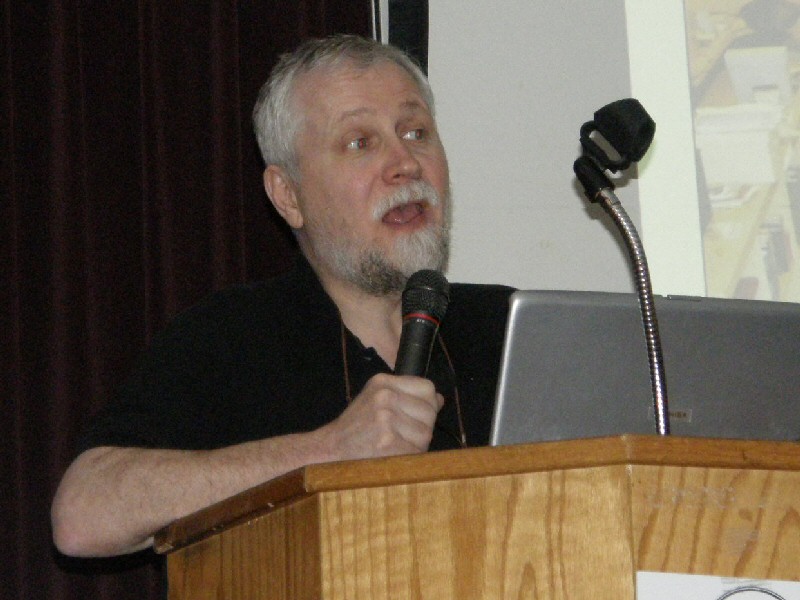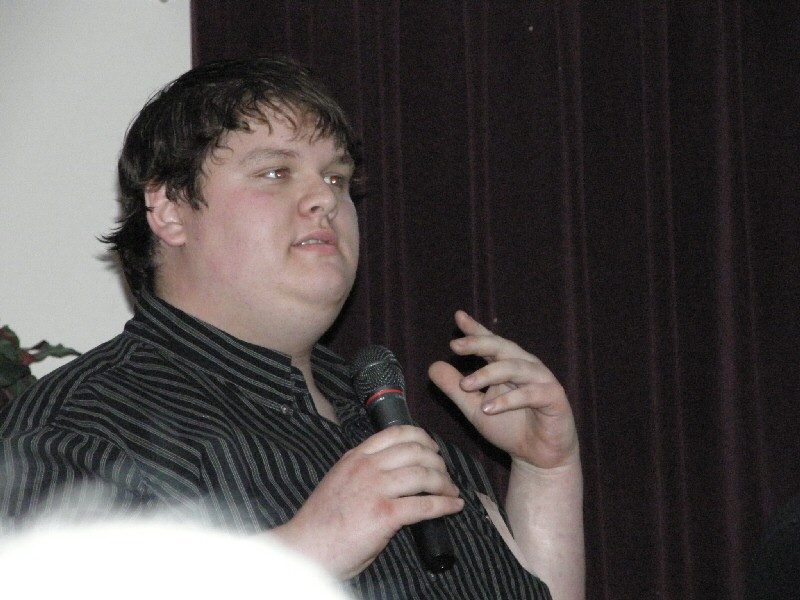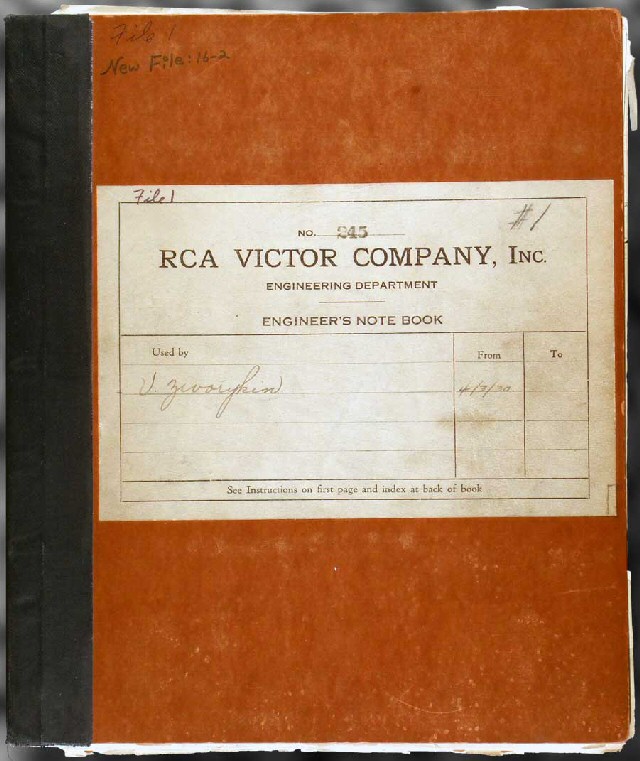 Dave Sica and John Tyminski topped the evening dinner with a wonderful talk of their recent volunteer work at the David Sarnoff Library and Museum. This was the best presentation of general interest, IMHO. Imaged above: Dave, John and Zworykin's RCA lab notebook #1. Notebook photo provided by Dave Sica.

The David Sarnoff Library and Museum was closed recently and all materials had to be removed and dispersed. There was all of the books in the library, all of the RCA patents and engineering notebooks, a rather extensive museum of prototype vacuum tubes and RCA electronic inventions as well as a great deal of David Sarnoff's personal property. An excellent portrait of Marconi from the early 1900s was located and rescued from the attic! As Dave Sica said at the very beginning of the presentation, "If you have a weak stomach, leave now". Dave was not kidding. Parts of this story brought me, "near to tears", describing modern corporate short sightedness and apathy.

Despite years of neglect and water / flood damage, a huge hord was rescued. History is richer for the efforts of these gentlemen and the others involved. Thanks to the heroic efforts of John Tyminski, who rounded up more volunteers, and to devoted virtually all of his time to assist in the vast the project, vast amounts of our nation's technological heritage has been rescued and preserved. John had worked at the museum as a volunteer since he was 12 years old.

Both John and Dave had the oppurtunity to handle Vladimir Zworykin's engineering notebooks, especially notebook #1! Oh. To gaze upon that with one's own eyes... (Thank you, Dave, for the late addition!)


---
After having met Geoff Bourne, I feel compelled to plug his awesome Radio and Technology Museum. Enjoy!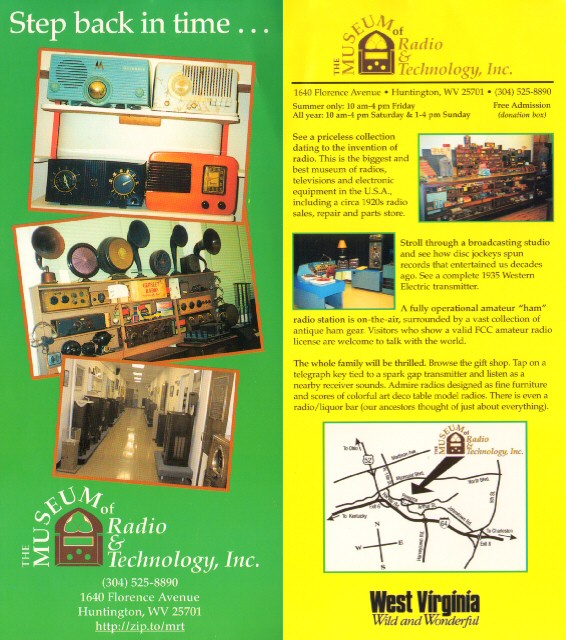 ---
[HOME]
---
Created April 27, 2010 Last updated: May 5, 2010