LabGuy's World: GYYR CCTV EIAJ TIME LAPSE VTR
---
05.02.10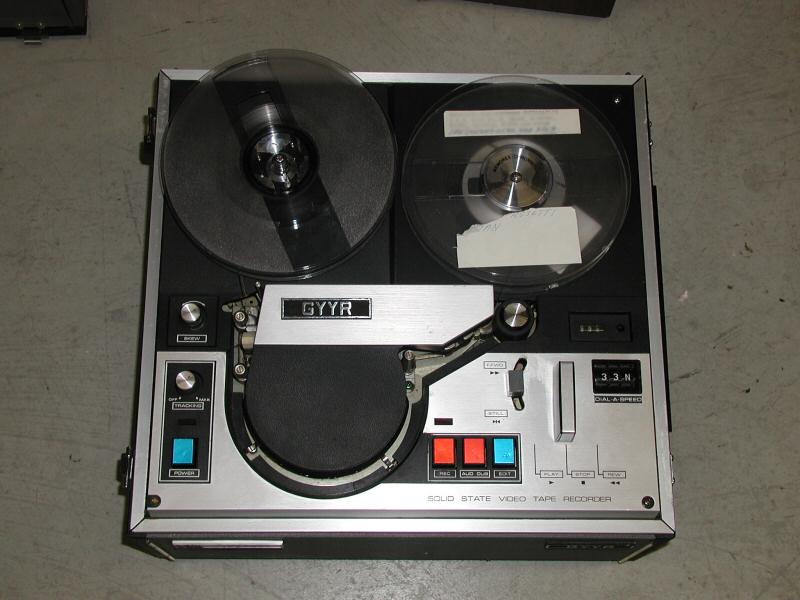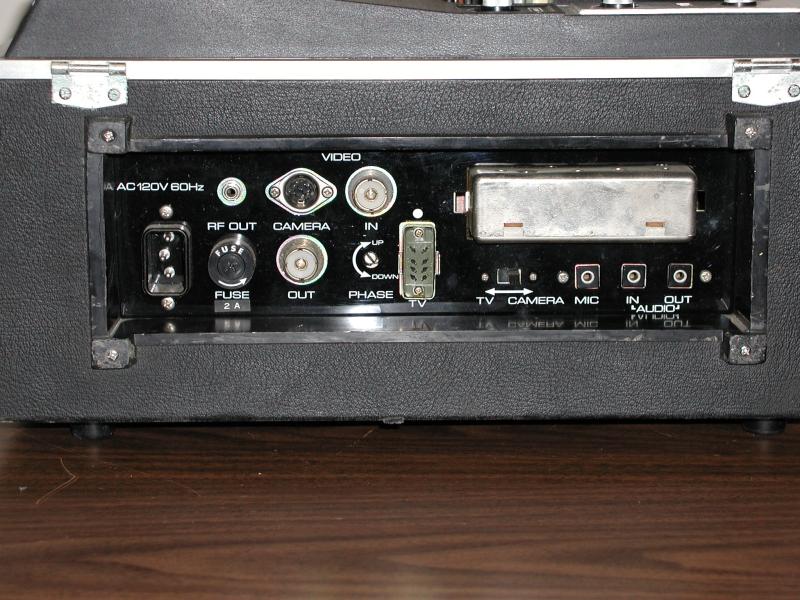 GYYR CCTV EIAJ Time Lapse VTR
.
This VTR is a modified JVC KV-360. It is B/W, EIAJ compatible and has been modified for time lapse recording. No model number is visible anywhere on this unit. The connector bay is identical to the JVC also. No modifications here. The most obvious addition is the rotary switch located near the operator lever. It allows the user to set various less than real time speeds and turn this mode off or on. It can be assumed this VTR can be used normally as well.
From a quick visual inspection, I found an additional cooling fan installed. This is because in time lapse mode, the main motor will not be running. The main motor normally provides case ventilation and is always running. Capstan drive, in time lapse mode, is by way of a small DC motor driving the rim of the capstan flywheel pully. The selections on the coded thumb wheels select the appropriate speed of this motor. The head drum is driven by a separate DC motor in this model, and thus tuns normally at 30 Hz at all times. This particualr machine has seen better days. The main belts are dissolved and I have no immediate plan to resurrect this machine.
In operation, a time lapse recorder runs the tape passed the heads at a drastically reduced speed. This allows recording time per reel to be stretched out to many hours and sometimes days. The video recorder amplifiers are modified to be able to be gated on for one frame and then held off for many frames. So if the speed is set 100 to 1, then the record drive is only enabled every 100th frame and the capstan is driven at .075 IPS or 7.5 IPS / 100. this is a simple modification and many of the common VTRs, shown on my other pages, were pressed into this type of service.
For its normal operation and quoting from my 1976 JVC catalog: The KV-360 is a B/W EIAJ video tape recorder with slow motion playback capability. A special vertical stabilization circuit prevents monitor rollover in slow motion and still frame playback. A built in 2:1 sync generator provides a stable picture with good resolution. Video and audio automatic gain control circuits simplify operation. Simple editing control permits easy program assembly. Skew and tracking controls guarantee interchange with any other properly adjusted EIAJ VTR. Audio dub lets you add new sound track to previously recorded video.
The second photo shows the connector panel. The large jutting object is the RF unit.
NEEDED: Service manual and or Operators manual and an appropriate GYYR equipment catalog featuring this era of equipment.
---
[HOME]......[VIDEO RECORDERS MUSEUM]
---
Last updated: February 10, 2005