LabGuy's World: 'Goldmark I' - Field Sequential Color TV Project
---
PART ONE: How can we acheive color television in the least practical way possibe? Let's find out!
---
What we might have seen on TV in the New York area in 1949
In 1948, Dr. Peter Goldmark of CBS developed a (not so) practical color television system that worked very well, relative to the tri-color CRTs of the day. Labguy tackles the challenge of replicating one of these marvelous lost technology beauties. The system transmitted only one color per field, in the sequence of red, blue and green. This sequence produced the lowest perceived flicker. If the process were applied to the existing 525 line, 60 fields per second system of the day, the transmitted bandwidth would be increased to 18MHz per channel. That is three regular 6MHz TV channels! The answer lay in changing the line and field rate of the CBS system so it could fit into a standard 6MHz TV channel. This resulted in a system that ran 405 lines at 144 fields per second. Without going through the math, this worked out to a 24 frame per second system with 6:1 interlace. In other words, it takes six complete fields to create one complete color frame of video. Its downfall lay in the fact that the system was incompatible with the existing TV system of the day. You could not ask consumers to throw away millions of BW TVs to switch to color. Ultimately, RCA's simultaneous color system, NTSC, which was compatible with both color and BW sets won the contest. It did not hurt that General Sarnoff had a lot of government 'friends' in high places. (crony capitalism at its finest)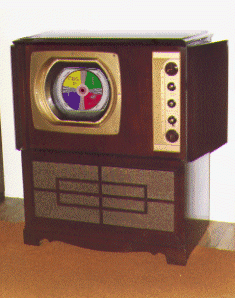 A typical CBS color Television
Field sequential color TV did not die there. There was a later variant of this process, called Col-R-Tel, where in an external adapter could be added to 525 line BW televisions that converted them to field sequential color operation. However, as mentioned previously, the flicker was ubearable. The process reduced the frame rate from 30 to 10 frames per second. Watching this way for very long usually induced headaches in typical viewers and the process never took off. Another interesting side note is that there was no inherent reason that the CBS system could not be adapted to tri-color CRTs and this actually was done by an experimentor and shown at the ETF convention a few years ago. He used a computer monitor and a sequential switch which to present the RGB to the monitor one color at a time. This worked very well with the medium persistance phosphors of a VGA monitor.
Before you turn your nose up to this system, be aware that it still exists today and played a major role in space exploration. The TV cameras that went to the moon with the Apollo astronauts was entirely 100% Col-R-Tel! It was transmitted in R,G, B sequence and processed at NASA back into proper NTSC. This was relatively easy since this system was already 525 line 60Hz. Earlier BW moon cameras were not directly compatible with NTSC owing to their 320 line, 10 frame a second rate. These required a scan converter composed of an NTSC rate camera aimed at 10FPS TV monitor. Today, you can find field sequential color being used in very fancy internal projection LCD TVs. A color filter wheel is spun in front of a light source that passes through a single pane BW LCD which is fed sequential video to match the color of light passing through at that instant. This gives the absolute full resolution of the LCD in all frames and removes all of the registration problems found in multi-LCD systems.
This is an active project. These are my public lab note books as the project evolves. Check back occasionally for updates. Feel free to provide your insites. I'd love to hear your input. The order of the articles is as follows:
---
[HOME] [ELECTRONICS PROJECTS] [GOLDMARK I, PART 2]
---
Created: July 3, 2013, Last updated: August 8, 2013