LabGuy's World: 1975 JVC CP-5000U 3/4" Umatic Video Cassette Player
---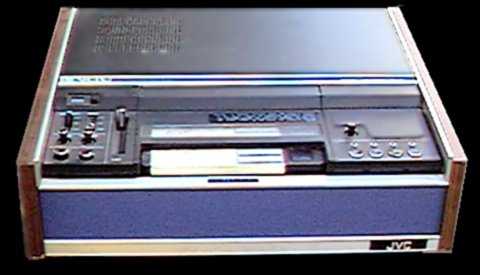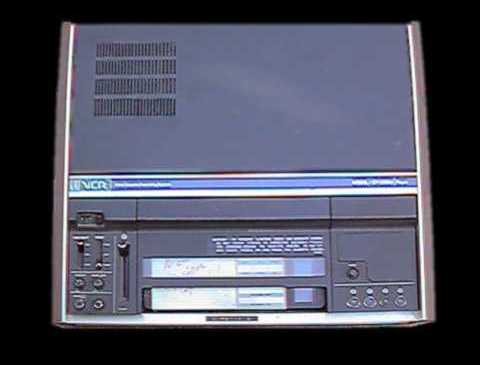 This model, from JVC, is a first generation play only machine. It produces excellent color video and Hi-Fi stereo sound and plays up to 60 minutes depending on the cassette. The first two photos are glamour shots. Photo #3 shows the internal mechanism. Notice the threading ring and extractor arm (just below the main motor). This clever mechanism pulls the tape from the cassette and wraps around the head drum before engaging the capstan. Photo #4 is a close up shot of the head drum, showing one of the two actual video heads. Notice how tiny it is.
Though it can be quite a pain to get this old guy to thread tape, it is well worth it. The threading ring drive belts are shot and it could use a new filter capacitor in the power supply but, once it's warmed up, it plays like the day it was made.
UPDATE 060325:
This machine was sold yesterday to the people who are producing the TV program, "LOST". The entire transaction was worked out within an hour and the deck was shipped overnight to their location in Hawaii. Not a high profit deal. But more of an ego boost for yours truly.
Last photos of my JVC CP-5000U just prior to shipping to Hawaii in March 2006
The story behind this deck is fascinating. It was alleged to have been purchased originally by a white supremacist. It was then sold to a surplus store where my current room mate worked. He picked it up for a charm and hauled it home. He kicked it around for a few years and, in 1990, was about to haul it to the land fill. He and I had just met back then, and I snagged the deck out of the back of his truck at the last second. I used it for a couple of years until loaning it to my good friend, Carlos T. Harper*, to view video he shot at the Monterey Jazz festival. The copy thereof is still in the VCR. When Carlos moved to Washington DC to work at BET, Black Entertainment Television, he gave the VCR back to me. (Notice the "good karma" aspect of the ownership trail.) I stored the darn thing for many years after that, using it occasionally until it developed a logic fault. Now it is off to entertain us yet one more time as a TV prop. Who knows where it will ultimately go!
* If anyone knows the where abouts of Carlos Harper, please put us back in touch. Thank you in advance.
NEEDED: Nothing!
---
[HOME]......[VIDEO RECORDERS MUSEUM]
---
Last updated: March 25, 2006