LabGuy's World: Merlin Engineering ME68 Quadruplex Dubbing Deck
---
NEW! 080629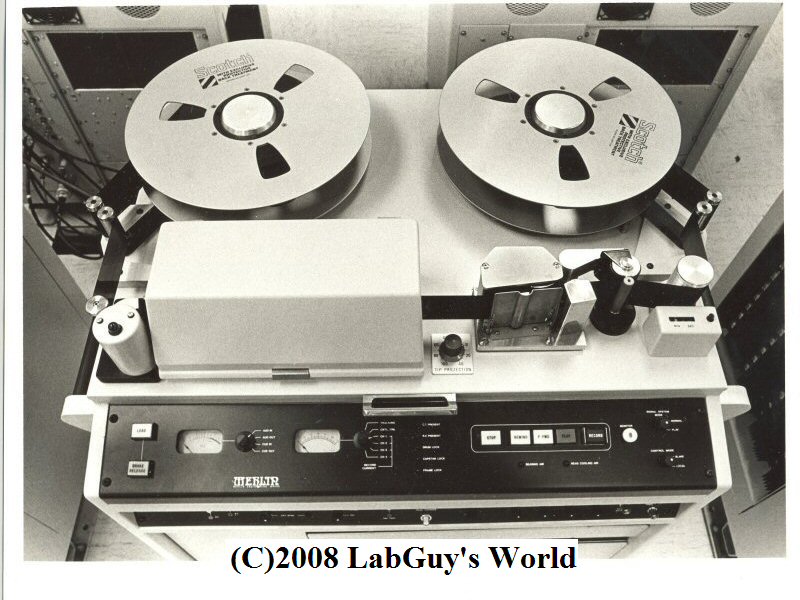 Merlin Engineering ME68 brand new in 1977
Here is a remarkable video tape recorder. Merlin Engineering constructed no less than ten of these for Vidtronics in Los Angeles California. They started life as Shibaden SV-7000s, just regular two inch quadruplex VTRs. Merlin stripped the original electronics and video heads before rebuilding the machine from the ground up. Primarily intended for record only operation in a dub room, this deck has limited playback capability in that it lacks any form of time base correction. The contract was iniated in 1975 by Vidtronics and Merlin delivered the machines in 1977. They were accepted with great enthusiasm.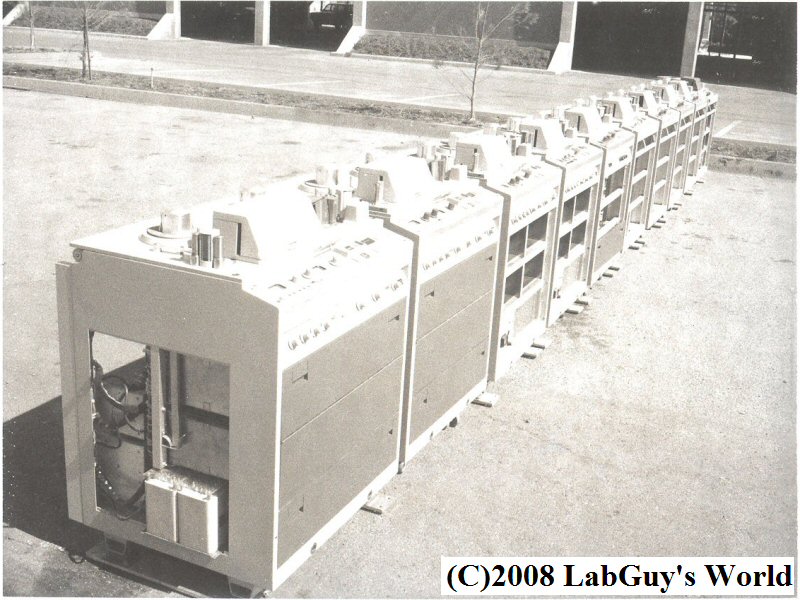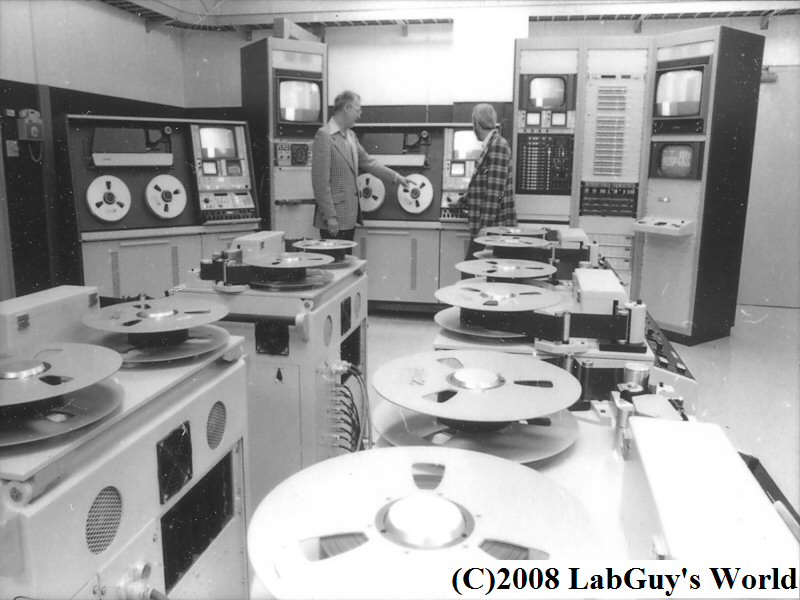 Finished at Merlin and Installed at Vidtronics 1977



This is what the completed decks looked like the day they shipped them from Palo Alto to Los Angeles in 1977. The next photo is the dub room at Vidtronics. Dig the groovy jackets the sales guys are wearing!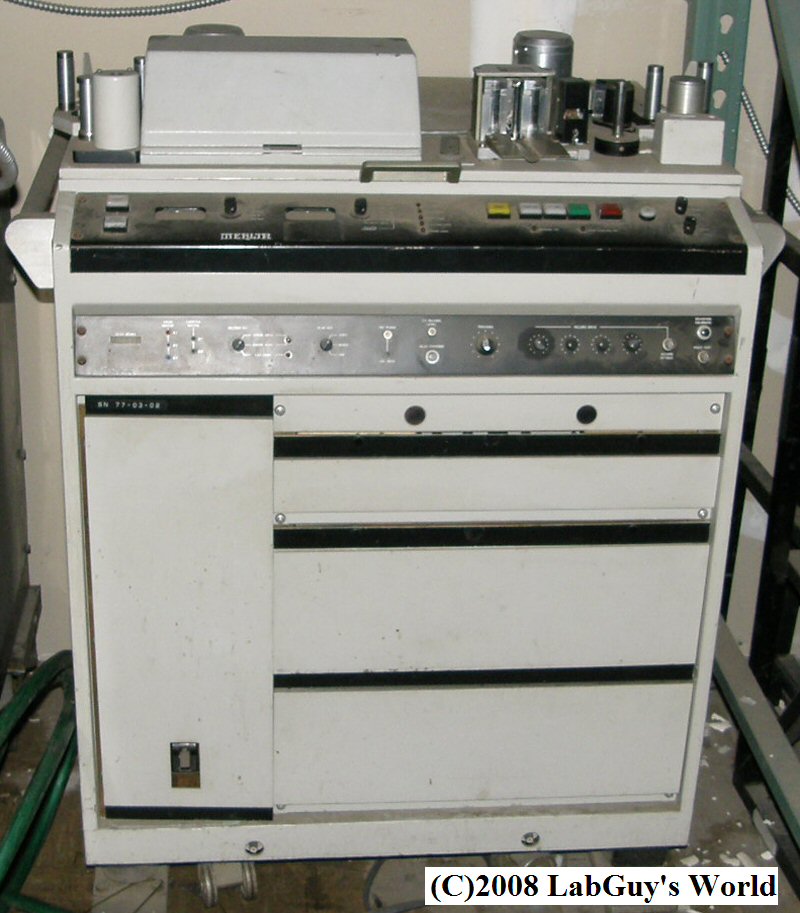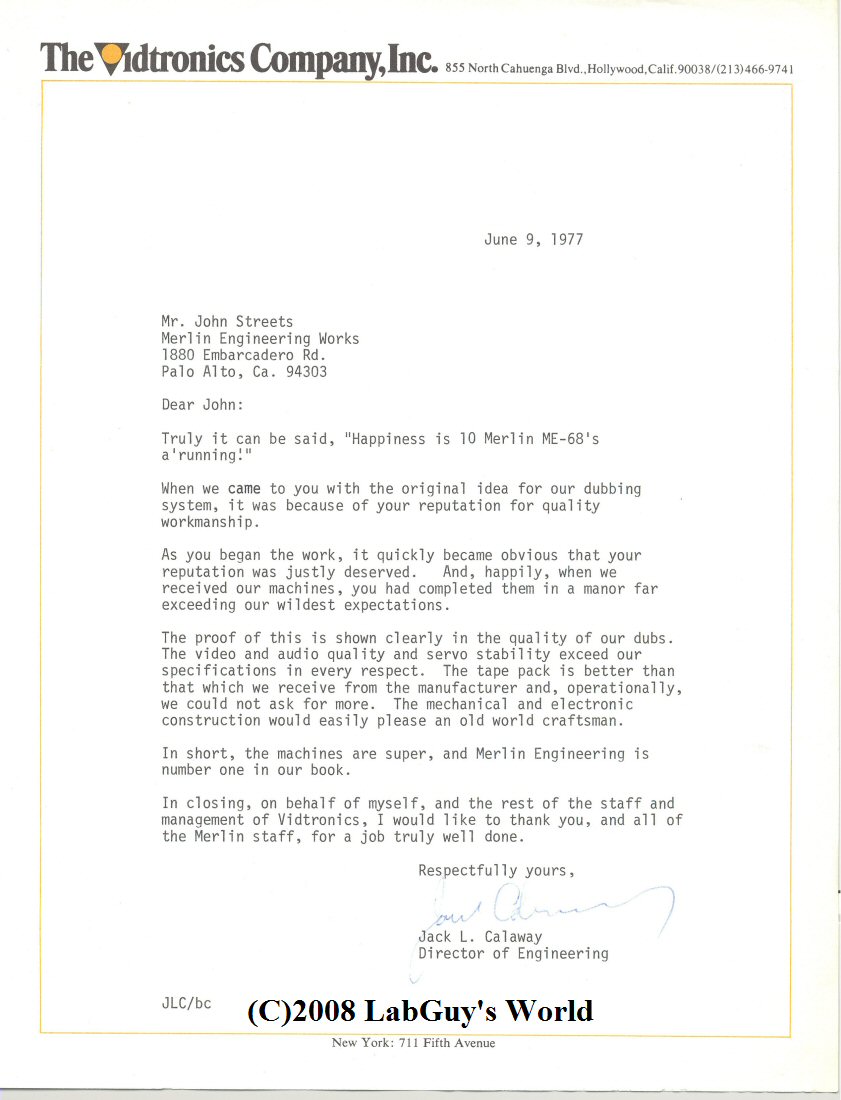 Merlin Engineering ME68 as found in 2008



Merlin Engineering is in transition today and John Streets is moving from the original building and will be retiring. He graciously donated this machine to my collection along with a wealth of documentation. This acceptance letter is his pride and joy. Merlin Engineering maintained a reputation of excellence in delivering custom solutions to customers in the video and television industries. Even I had a chance to work at Merlin in 1975, where I was in charge of modifying Hitachi HR-200 one inch type C VTRs for 1000 line medical video recording on contract with Philips Medical Systems. While there, I also got to do my first bit of official engineering when I developed a ten channel stereo audio switcher for a Panasonic commercial server system based on M Format VCRs. It was an honor to work at Merlin Engineering.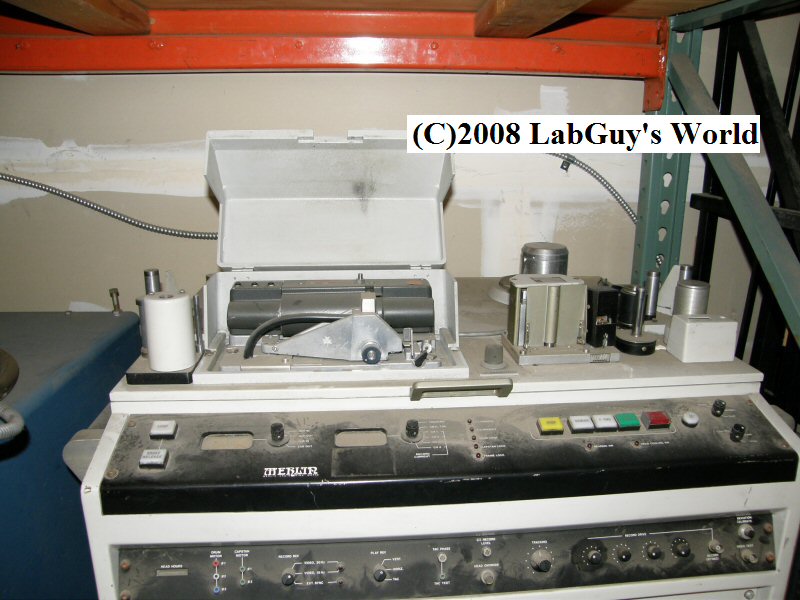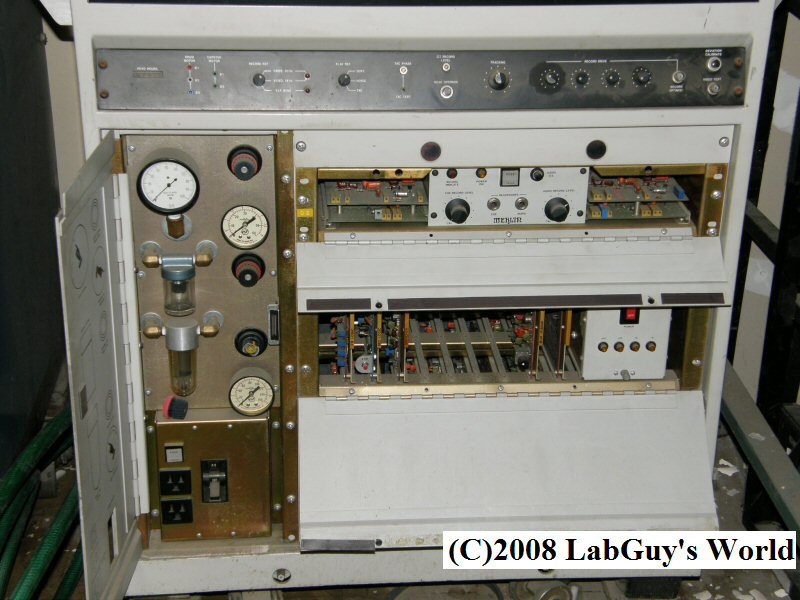 ME68 as found in 2008 at Merlin Engineering



As we can see, this machine needs a little bit of cleaning and TLC before it will operate again. The ME68 was made from a Shibaden Quadruplex deck. Almost everything was replaced, making it easier and cheaper for Vidtronics to maintain the machines. The deck was modified to accept the more common Ampex Mark 10 head. The Audio head stack was replaced with an Ampex stack. The original erase heads, which worked from the back side of the tape, were retained.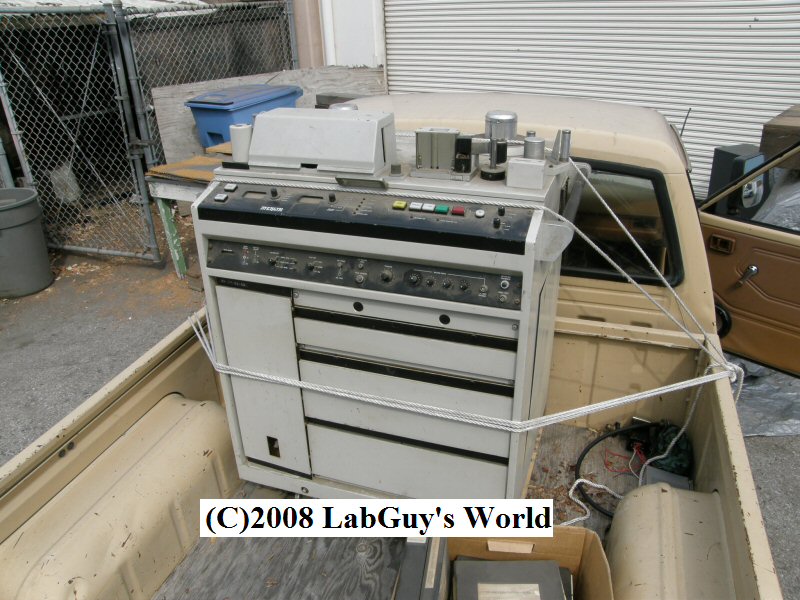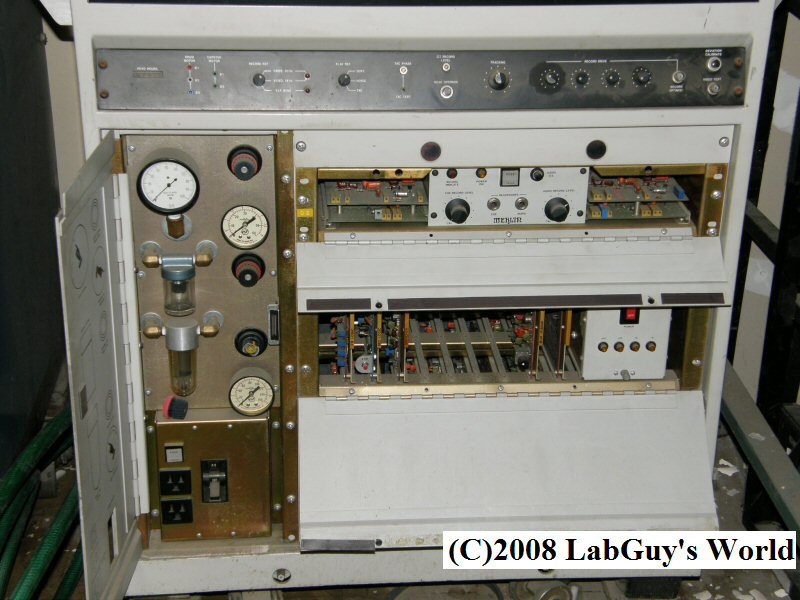 Moving Day!



Here is the ME68 today in the back of the truck ready for the ride from Palo Alto to San Jose. These things are really easy to move.... as long as you have a fork lift handy!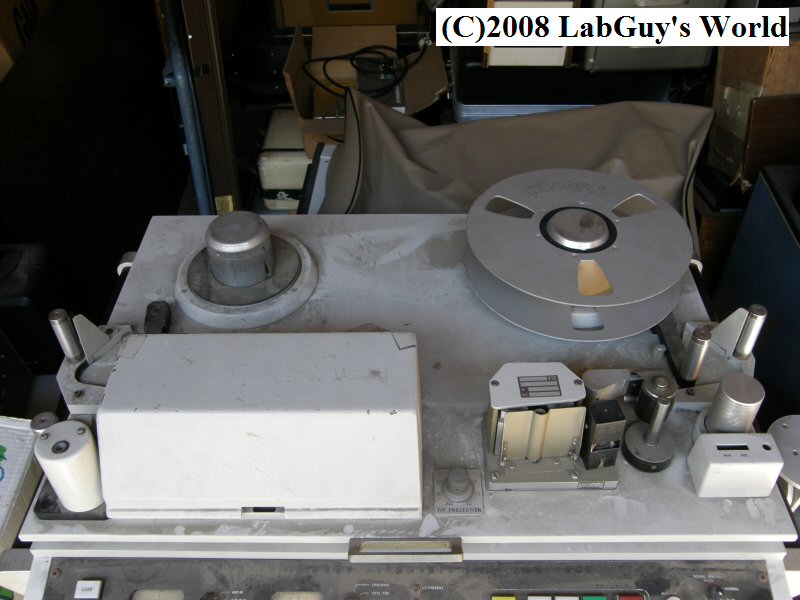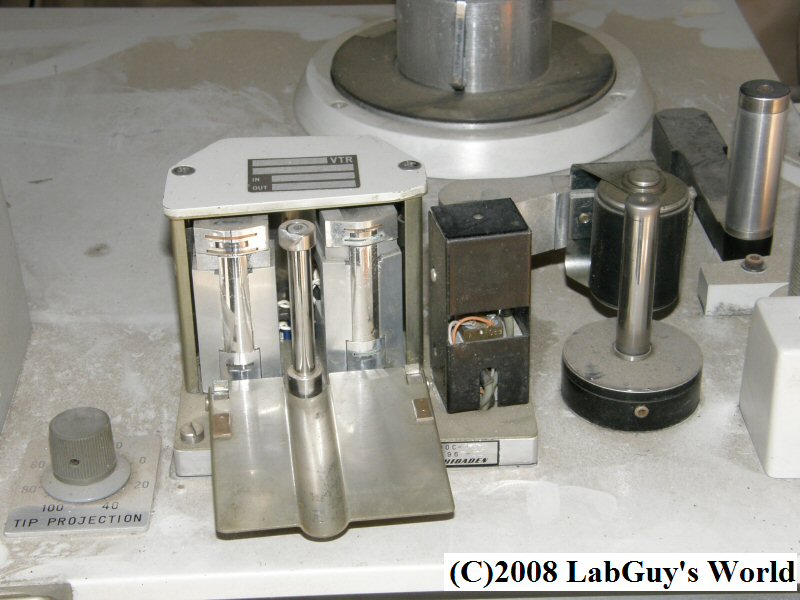 Resting for now in my storage locker



ME68 Top view of the transport. Close up look at the audio head stack. Not that this thing needs to be cleaned.


---
[HOME] ......... [VTR MUSEUM]
---
Created June 29, 2008 Last updated: June 29, 2005