LabGuy's World: Vintage Video Switchers
---
New Addition! 02.09.28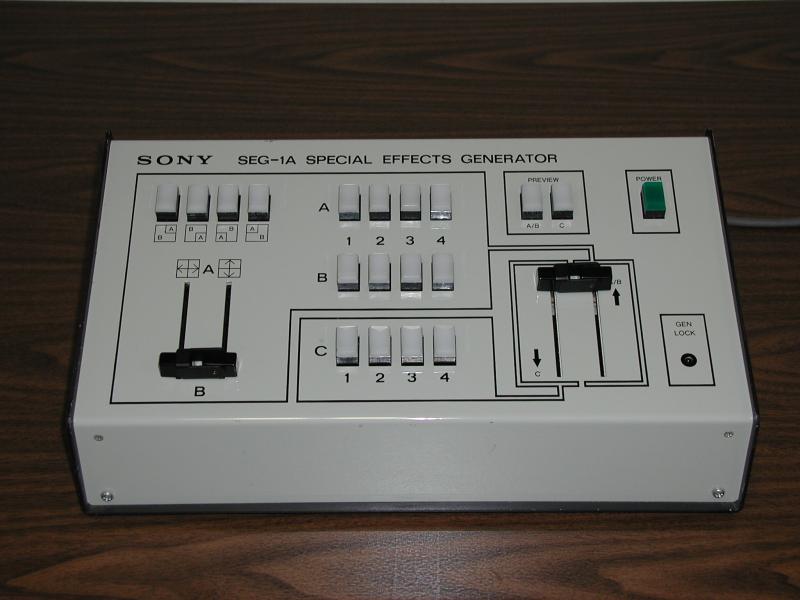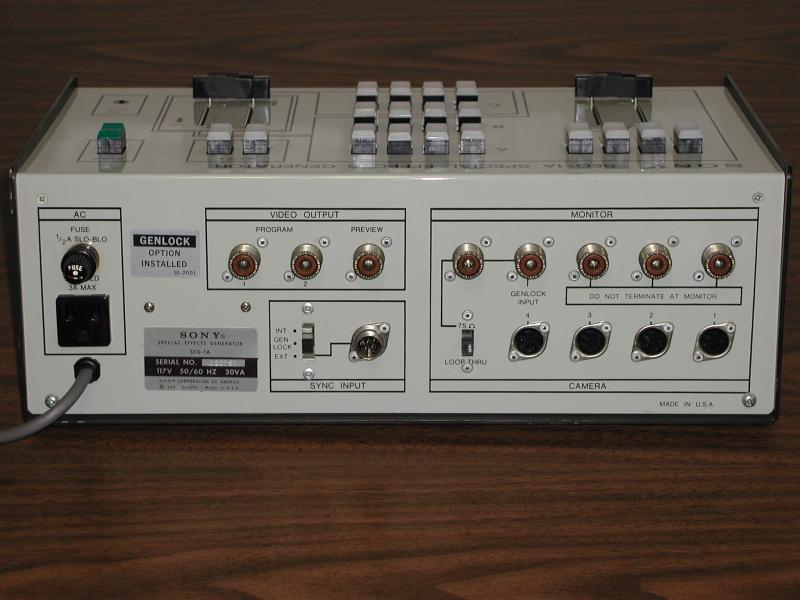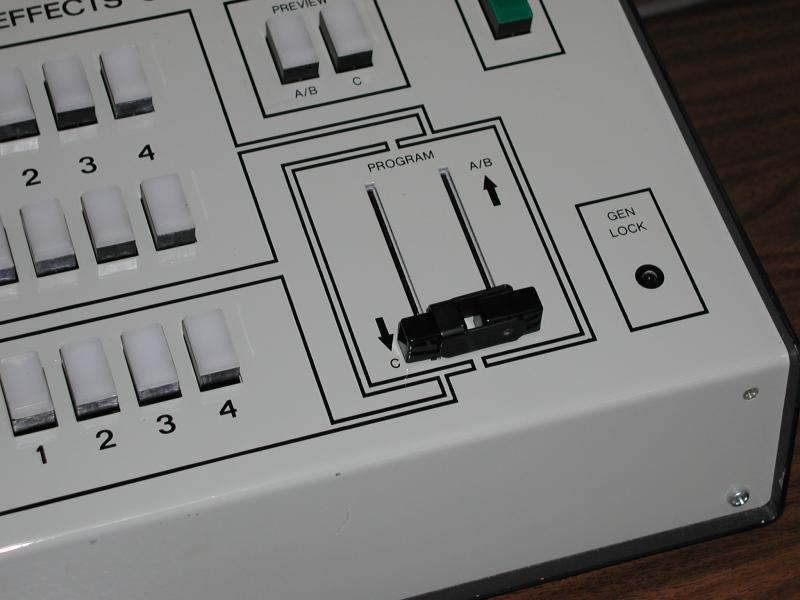 1969?: Sony SEG-1A B/W Video Switcher.
.
Another fantastic find! A very rare Sony SEG-1A. Note the A suffix specifically making this unit remarkably different from the plain SEG-1 that follows. This model is a lot more sophisticated than the non A version as well. Video is switched electronically in the vertical interval the selector buttons are conveniently lighted. The sliders have little mechanical couplers to make tracking them easier. This unit can also be externally synchronized so that it can feed an even larger system if desired. Very sophisticated technology considering the era! This particular model is in pristine condition. In fact it appears unused. Not for long if I get the time to devote to it!
WANTED: Service manuals, operator's manuals and vintage magazine articles on this machine.
---
New Addition! 01.04.27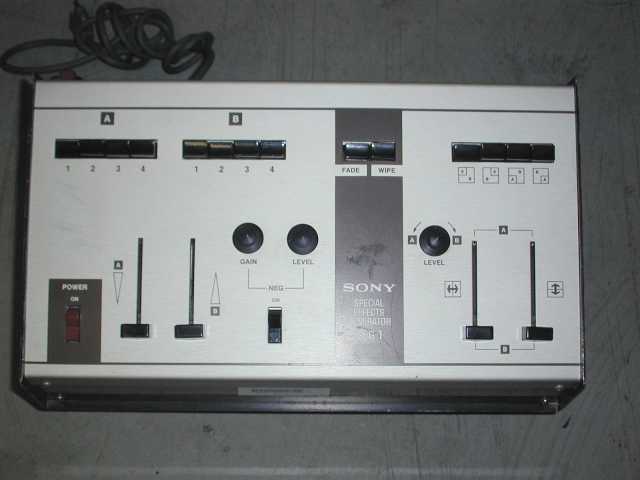 1968: Sony SEG-1 B/W Video Switcher.
.
This just in! A very rare artifact from Sony. Introduced in the late 1960's, this is the first small video studio switcher. How many of you folks remember this one from your high school or college days around "The Summer of Love"? If you (can) recall the late 60's and early 70's (you probably weren't there!), one of the most notable aspects was "THE COLORS, THE COLORS"! The picture quality of commercial color television had finally gotten very good. (Some mighty fine examples were: Laugh In, The Tonight Show, etc.) Too bad all of the low end video gear was black and white! Oh, well. I digress. . .
This switcher offers six wipes (horizontal, vertical and four corners) as well as simple dissolve between any two of its four input sources. Typically, these would be cameras since TBC's (Time Base Correctors) weren't available in this price range which would have allowed VTR's to be used as input sources too.
The mark of a really tacky video production is to use all of the wipe patterns in a single session. Programs created in small studios of this era, with these cheap switchers, are some of the cheesiest in history. Ah, but the nostalgia, it brings a tear to me eye!
ON THE DRAWING BOARD:
I want to get this switcher cabled up to several of my old video cameras and a 1/2" EIAJ VTR. Then I want to have some friends run the cameras and the VTR while I put on a TV production. While all that is happening, a REAL video crew, using modern equipment will shoot a documentary of my low grade production in progress. Then we will edit this down into a finished product, showing and explaining the early video equipment, delving into interesting historical aspects and finishing up with a dub of the low grade production to close! I will then market copies of this video here at LabGuy's World! Please send me email and let me know your enthusiasm level for such a product. If it is high enough, I'll do it!
I know that this site's host demands that I be "non-profit" and I am certain that I will NOT break even on this job! So, it should be no problem or risk!
.
New Addition! 01.04.27
I have recently obtained the SEG-1 Operator's Manual. [Click Here to View Manual]
WANTED: Service manuals, operator's manuals and vintage magazine articles on this machine.
---
New Addition! 01.12.08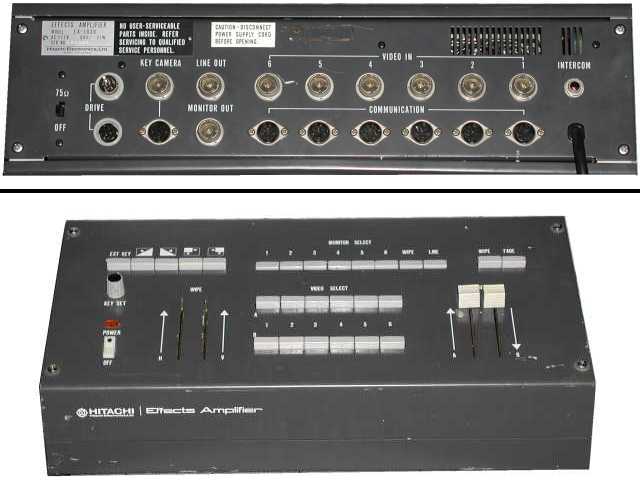 196?: Hitachi EA-103U "Effects Amplifier" or B/W Video Switcher.
.
I obtained this item along with the Shibaden FPC-1000 three tube camera. It is actually a B/W video switcher with simple wipe effects and an A/B fader. It has six inputs plus a keyer input. The upper portion of the photo shows the rear connector panel and the lower portion is the frontal view of the unit. Classic Shiba' / Hitachi gray color scheme to accent any serious small format TV studio of the time!
It is either very late 60s or early 70s vintage technology. It requires an external sync generator, not shown, model SG-108U. The U suffix on all of the Hitachi and Shibaden equipment identifies it as EIA/NTSC format. European CCIR/PAL equipment would have an "E" suffix. The units are all untested at this time. However, they are in excellent physical condition and are probably fully functional.
WANTED: Service manuals or operator's manuals for this item.
---
New Addition! 01.09.28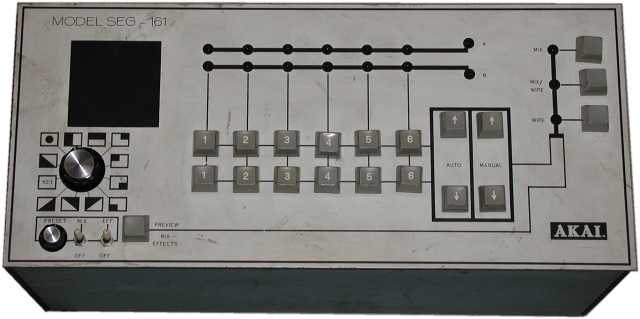 197?: Akai SEG-161 B/W Video Switcher.
.
Here is a very rare artifact from Akai. This is a small studio six input video switcher. I have very few details on this unit, but I do know for certain that it is really manufactured by CrossPoint Latch Corporation. Its operational state is unknown and it is untested at this time.
WANTED: More information, service or users' manuals for this switcher.
---
Click here to:
Go to the Next Exhibit: Strange and Rare Video Equipment
Return to the Exhibit Index
Return to The Top of LabGuy's World
Last updated: November 25, 2002