LabGuy's World: Extinct Video Cassette Recorders:
---
New Addition 02.04.23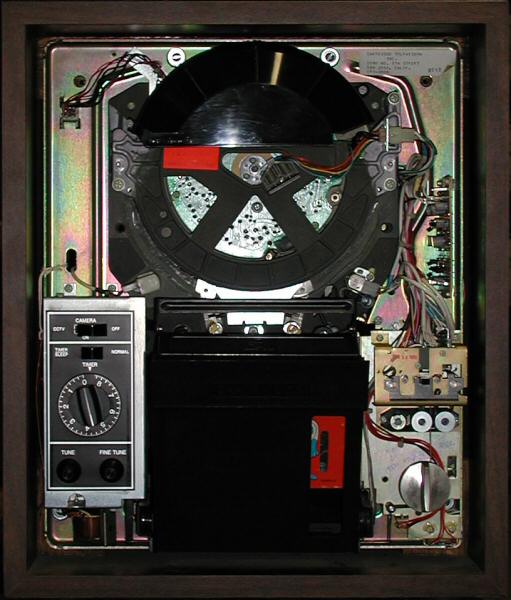 1972: Cartrivision ~ The First ALL American Home VCR!
.
The Cartrivision section has become too large to share this page with the other extinct VCRs. So, I have created a separate new page just for [Extinct Cartrivision VCRs].
---
New Addition 02.10.04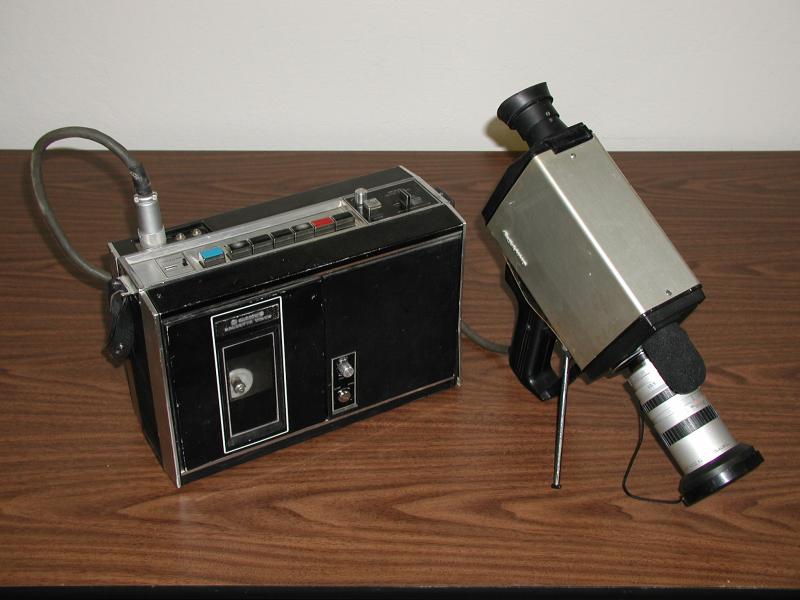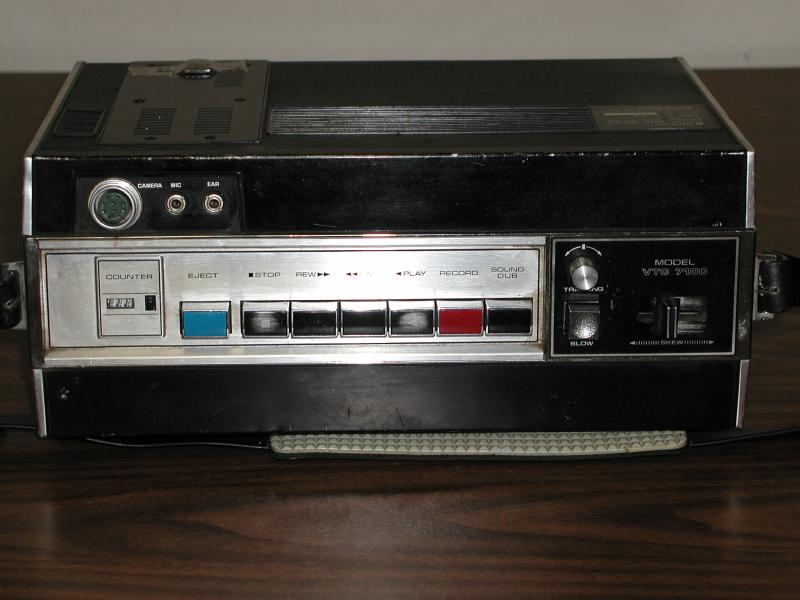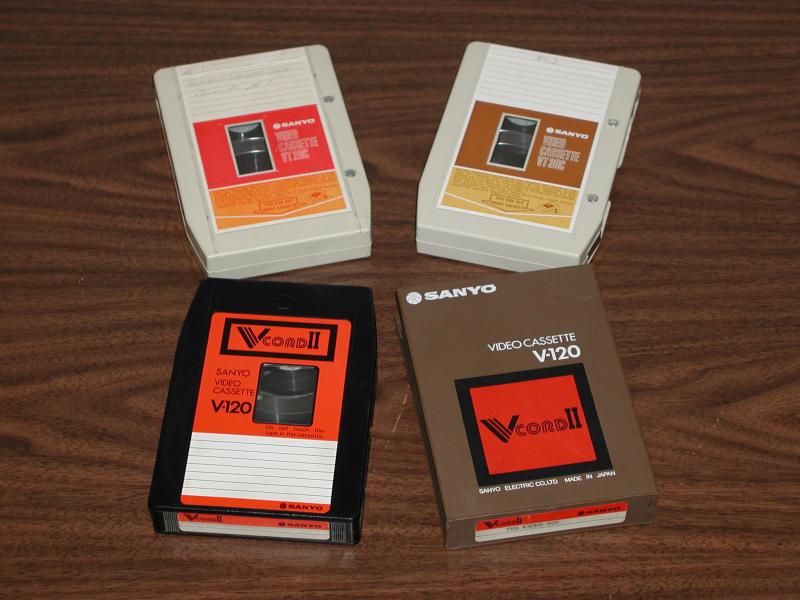 1976?: Sanyo VTC-7100 V-Cord I Portapack VCR!
.
Vintage: 1978. This is V-Cord portable video recorder, shown in the first photo with the matching VC-500 portable vidicon camera. This is an all B/W system. Tapes were available in 20 and 30 minute lengths.
The VCR systems are advanced for their time. This is a four head recorder which offered the first "clean" still frames and variable speed slow motion. There is also a knob which allows the operator to scroll forwards and backwards through the video still frames. The VTC-7100 weighs 18 lbs with the 12 volt lead acid battery and no tape. The VC-500 camera weighs 5 lbs more.
In 1983 I got a job as a video technician, at Videomedia, then in Silicon Valley. My first task was to service approximately fifty of these VCRs! These were being used as part of a medical cardiac imaging machine to record pictures of the living heart. The VCRs were in for their routine one year tune ups! That's what I call an "educational" experience!
WANTED: Service literature and / or operator's manuals.
---
New Addition 02.04.23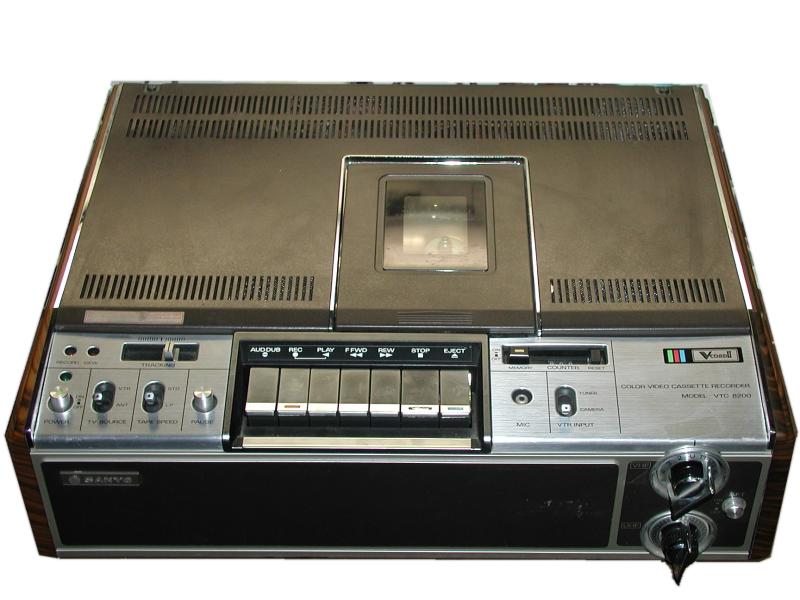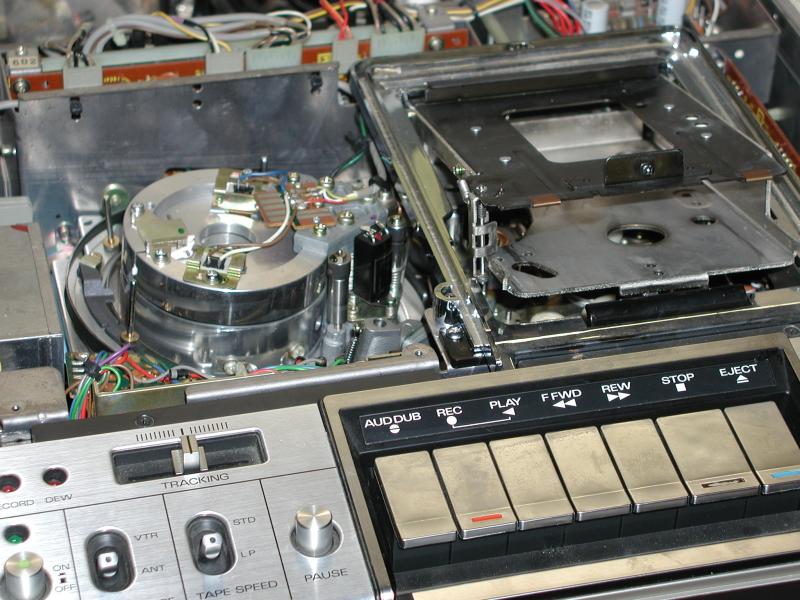 1976?: Sanyo VTC-8200 V-Cord II color two speed VCR!
.
Vintage: Early 1970s. This is the first VCR to offer two speeds! It could record up to two hours and it was color! Another case of TOO LATE! Betamax and VHS were already the dominant formats and consumers were not even going to consider another one. This model has the built-in television receiver with the old style "clicker" mechanical tuners, but no timer. V-Cord format machines were manufactured by both Sanyo and Toshiba. For more information about V-Cord VCR's, visit [ THIS SITE ].
This machine is working. The rubber belts were shot, as usual! I finally managed to find the proper belts to test this machine. It plays the only tape I have just fine! Thanks to who ever recorded this time long ago. The movie was recorded from a Los Angeles TV station many years ago! It was the "Late Show Movie", called, "The Wrong Box". Anyone else got some V-Cord tapes they'll let me watch?
WANTED: Service literature and / or a belt kit for this beauty.
---
New Addition 02.01.26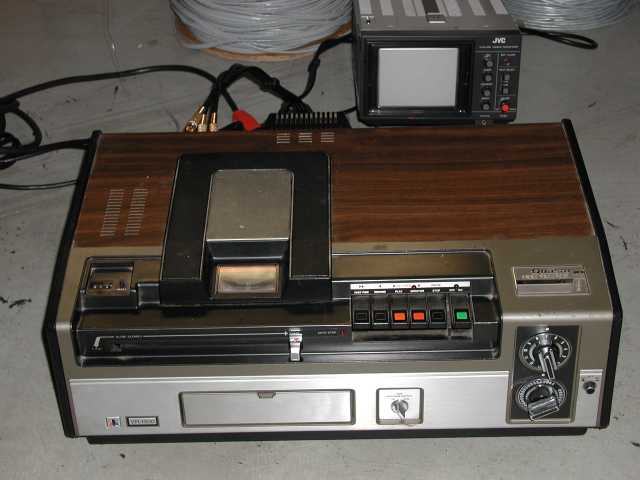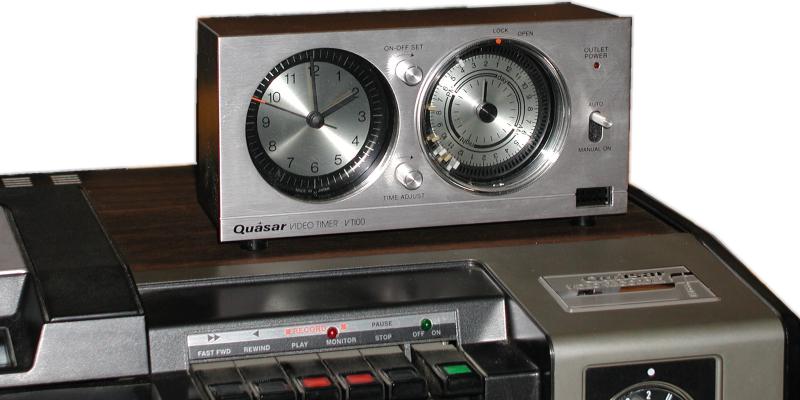 1976: Quasar VR-1000 Great Time Machine and matching VT-100 Mechanical Timer!
.
Vintage: Mid 1970s. This is a VX format machine. This is the only model VCR ever manufactured in this format! (That I know of!) It uses a unique cartridge, with coaxial stacked reels of tape and in cartridge scanning. The head drum actually intrudes into the cartridge. The sliding lever, in front of the cartridge door in the photo, unscrews a plastic plug from the cassette for operation. After a tape is viewed, the sliding lever is moved to the left and the plug is screwed back into the cassette! Very Rube Goldberg, indeed! The tape is one half inch in width. The video recording system consists of a one head, full alpha wrap design. This gives twice the tape to head speed of two head designs. This is also why the plug is needed in the cassette. The tape is already pre wrapped in the full loop necessary to encompass the drum. These machines made very nice video and had cartridges up tot two hours in length. Unfortunately, the tape cartridge is larger than most VCR's today! The small monitor, seen in the background of the first photo, is my JVC 5" color monitor and is not part of the VCR.
The second photo is of the VT-100 mechanical timer. To program this, you remove the plastic cover on the right hand clock face and poke little pins into slots corresponding to the times you want the VCR to start and stop. The timer just turns the AC power off and on to operate the VCR deck. Being mechanical, you just put in a tape, press the lever to record, and activate the timer. It will repeat the start stop times every day until disabled. The VCR would stop automatically if the tape reached the end also. This would be perfect for capturing soap operas!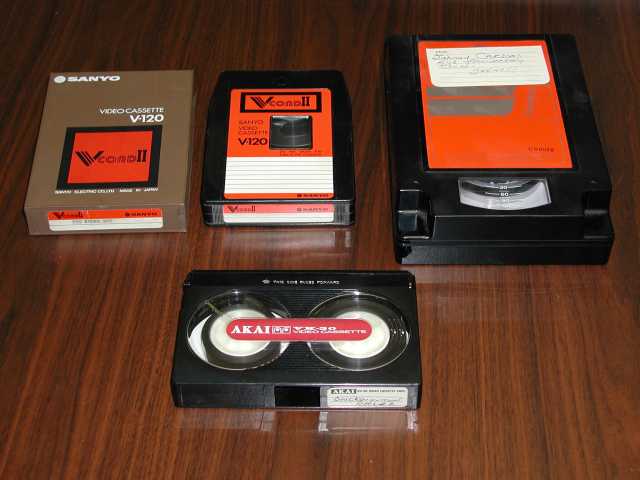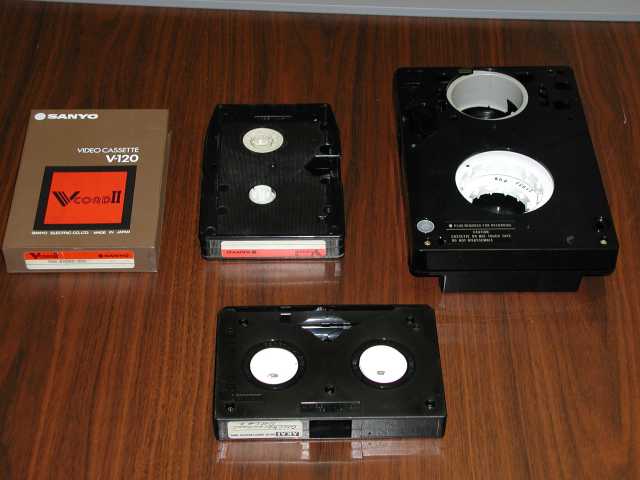 In the photos above, I compare the VX format cassette with a couple of other obsolete formats. Upper left is a V-Cord II tape and its slip cover ~ about the size of an 8 track tape. Lower center is an Akai Activideo cassette ~ about the size of a Betamax cassette. Upper right is the VX cassette which is larger than two VHS tapes stacked one upon the other! In fact, it is the same overall dimensions as a standard size Umatic video cassette, only a little thicker. You can easily see the nested, coaxial arrangement of the tape reels (white) and also the screw in tape holding plug (gray) that keeps the full wrap of tape in place. All of the heads, including full erase and the audio/control stack intrude into the tape cartridge while it is in the machine. The VX tapes were available in three lengths. They were; 60, 100 and 120 minutes. The longitudinal tape speed is only 2 inches per second, so the tape lengths were 600, 1000, and 1200 feet respectively.
Update Information 02.04.04
.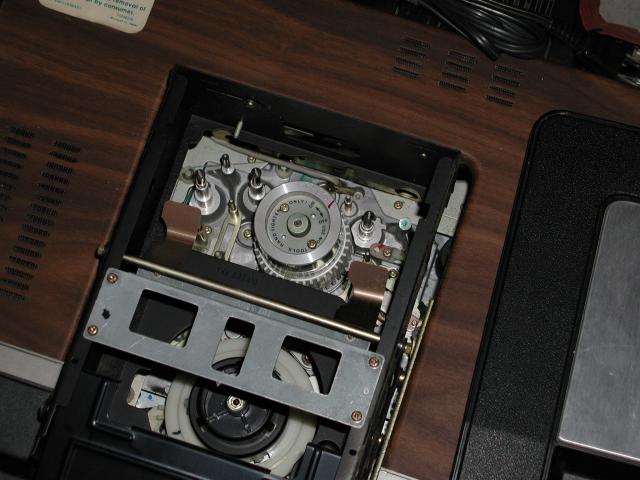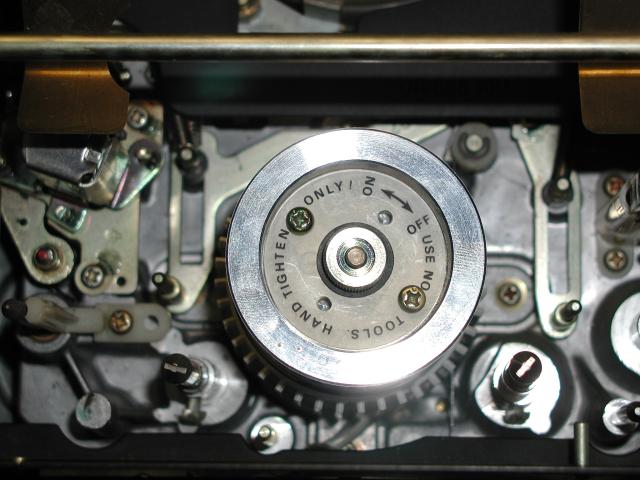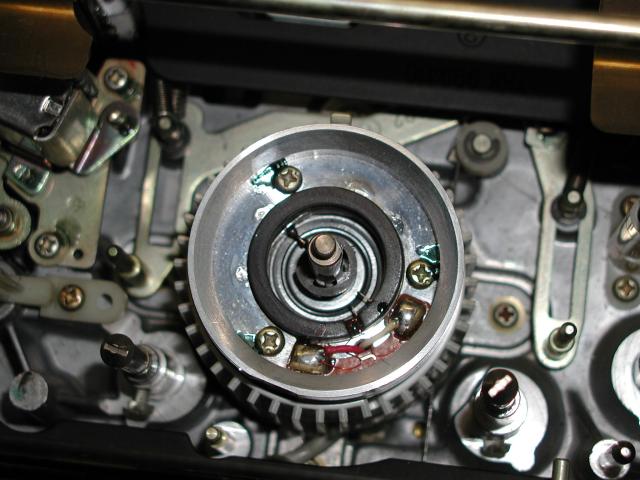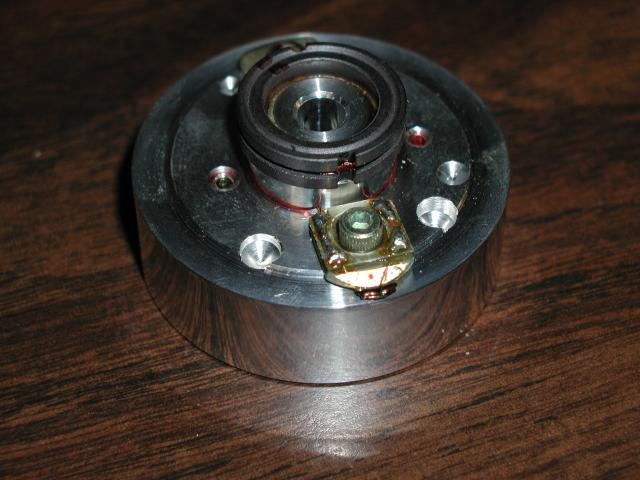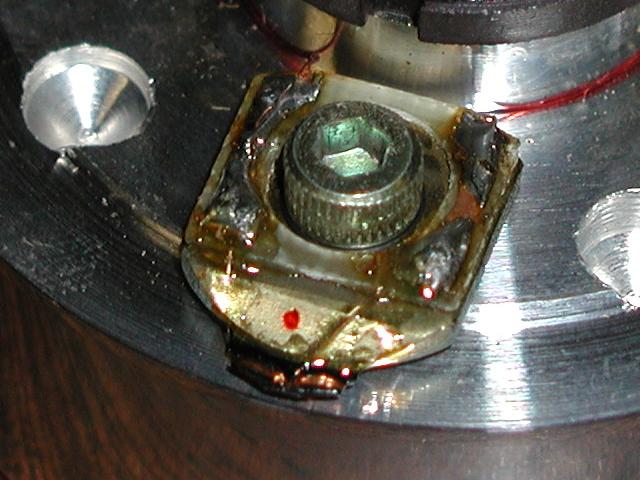 After receiving another tape for this machine, the heads clogged up while I was trying to play it. In attempting to clean the head, I made the most amazing discovery! The head was very inaccessible, so I removed the plastic top of the cassette elevator and discovered that the head drum is easily REMOVED for cleaning as seen in the first photo (directly above)! You simply unscrew a knurled nut and lift the head wheel, complete with video tape head and half of the rotary transformer, right out of the machine. This assembly is quite fragile, but it was a heck of a lot easier to clean, than if I'd tried to reach it from outside the deck! What a clever innovation! Why didn't this catch on in later VCRs? Photos 2 & 3 show the inside of the deck with and without the head wheel. Photo 4 is the head wheel, flipped upside down to show the video head and the rotary transformer winding. The last photo is a close up of the actual video tape head. The small drilled out recesses on either side of the video head are for balancing the wheel.
This head wheel is 1 and 7/8 inches across. That gives a circumference of roughly 6. 08 inches. Rotating at 59.94 RPS (for NTSC) gives it a head to tape writing speed in the vicinity of 365 IPS. Not bad at all. These machines produce very respectable pictures with fine detail and rich saturated colors.
NEEDED: Service literature for this beauty!
---
New Addition 01.11.05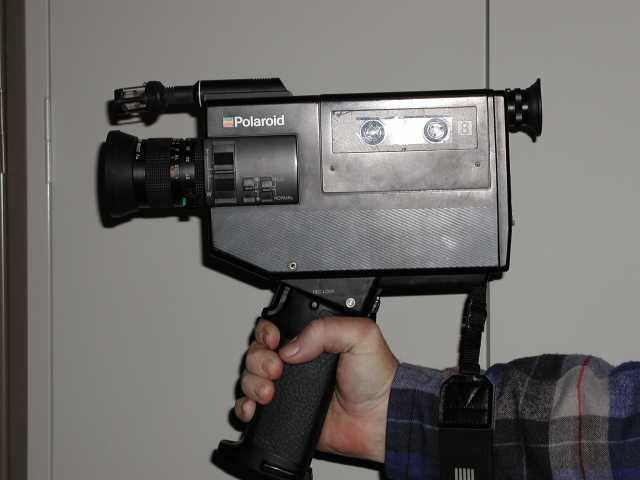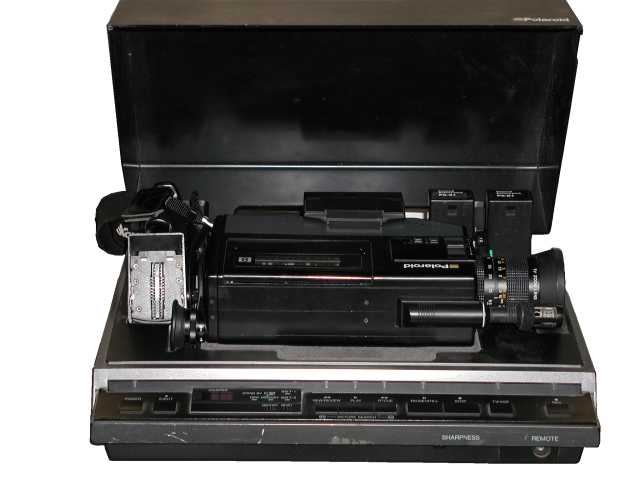 1984: Polaroid Record-Only 8mm Camcorder and Playback Adapter !
.
Vintage: Early 1980s. This is rumored to be a pre-production prototype unit that never went to market. It's easy to see why: The P8-C1 is RECORD ONLY! Even for 1984, this is unusual. Actually, the P8-C1 can playback when it is inserted into its docking station. The docking station has a place for charging two batteries, but no television receiver. According to the manual, a TV receiver was available as an option. The camcorder has a "through the lens" optical viewfinder and a 6:1 zoom range. Unit is untested at this time. Stay tuned!
Needed: Any information about this unit.
---
New Addition 01.08.23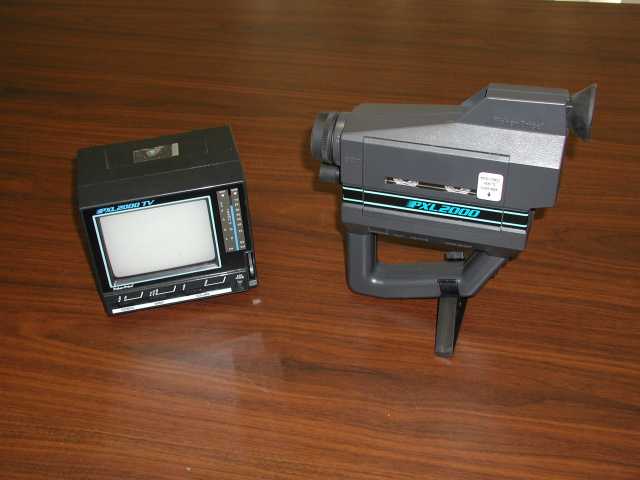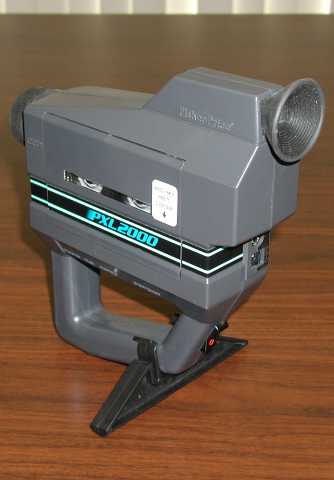 Fisher Price PXL-2000 B/W Camcorder & Monitor!
.
Vintage: mid 1980s. This is an extremely unique system! The Fisher Price model PXL-2000. It uses a 90 minute length, high bias, audio tape cassette! The tape is running at about 30 to 40 IPS (inches per second), giving a recording time of only about 10 minutes on a cassette! This unit is fully functional and represents the ONLY longitudinal video recorder in LabGuy's whole collection! This beauty is B/W only with a ghostly 15 frame per second video rate. Somehow, the frame rate is synthetically increased to standard 30 frames inside the unit. It has RF output so it will play back on any TV set or on the very cute and tiny 4" B/W TV monitor!
These are highly collectable! The resale value is extremely high on these as well. When introduced, in 1985, the camcorder (only) sold for only $99 US. Now, if you can find one for under $300, you should grab it, working or not! There are many web sites devoted to the continuing use of these cameras by artists and other sites that include conversion instructions for adding direct video and audio output connectors for use with standard VTRs. Some sites even offer repair / conversion services for pay.
WANTED: ANY technical literature on how this thing works!
---
New Addition 01.07.23
New Photo! 01.07.26
Another New Photo! 02.01.31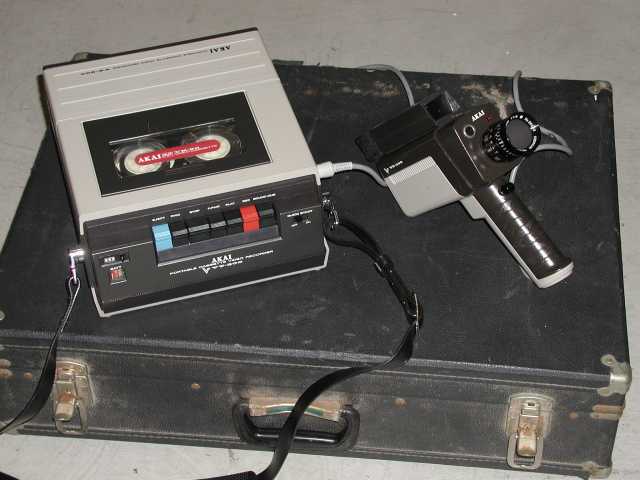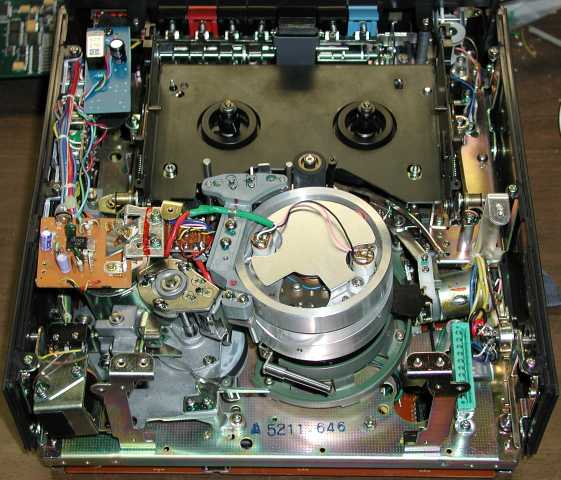 Akai VTS-300 ~ 1/2" B/W Video Cassette Portapack!
.
Vintage: late 1970s. This is an extremely unique system! The Akai model VT-300. It uses a 30 minute length, 1/2" tape cassette, with a Betamax like loading system and two video heads. This sucker is B/W only. It is also the only model ever made in the series! (That I've ever heard of.) Remember, ALL 30 minute video formats failed. This little beast is heavy to! Even without the batteries in it. It is constructed very densely. The cassette is about the same size as a Betamax, but contains far less tape.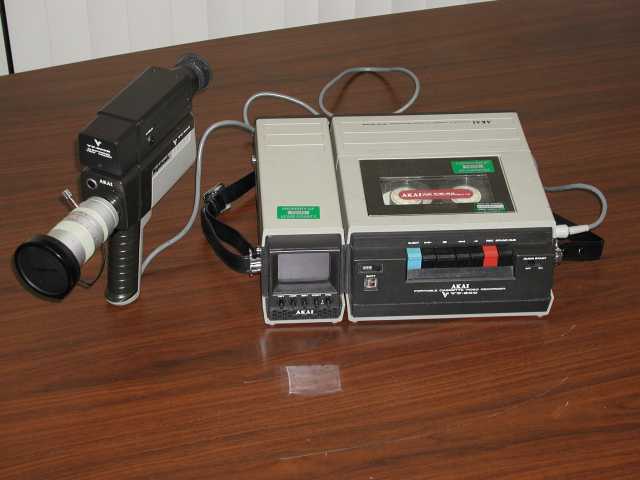 A Complete Deluxe Second System !!! (January 31, 2002)
This system has More news about the second system coming soon! Stay tuned!!!
The tape was stuck in the first VTR deck when I received it and, having no power supply, I had to do some emergency surgery to get it out. While I had the VCR open, I snapped the second photo, which shows off the little VCR's innards. If you look just below the head drum, you see one of the tape return guides folded over in its "down" position. As the threading system pulled the tape around the drum, going counter clockwise in this view, these guide slowly rise to the vertical position from below the tape loop. Its very clever and quite the sight to see. Another VCR that used a similar system was the Umatic machines made by NEC much later. In the lower right corner you can see the socket for the RF unit. It is the green one that is oriented vertically in the photo. Akai obviously worked hard on this one, as it is as complex as any other portable VCR of that era. It sure does like like 10 pounds of "you know what" in a 5 pound bag to me!
The camera, model number VC-300, is as basic as it gets. Originally, it must have had a fixed focus lens, now missing. I put one of my 25 mm lenses on it for the photo. The viewfinder is an optical peek through type with an LED indicator built in. The LED is probably to tell the operator tape is running. From examining some early ad copy for this system, I have determined that an electronic viewfinder was also available. (Model VF-300?) Overall, this camera, with the non active viewfinder, is very light and would be easy to hold up for long periods. It's just a "point and shoot" style camera making for (almost) fool proof operation. Overall, the VTS-300 is truly a successful attempt to create a video "Volkswagen" system! If it had been color and recorded for more than 60 minutes, it might have had a chance in the market place. Shown here in the first photo, sitting on the original (very battered) carrying case, it is obvious that this little fella has seen better days. The VCR and camera are clean and mostly intact and should be restorable. Only time will tell. Stay tuned!
The second system has the sidecar monitor and the electronic viewfinder for the camera. The lens on the second camera is the venerable 12. 5 mm to 75 mm, 6:1 zoom used on many portable cameras of that era.
.
SIDEBAR ~ Bruno Merlier wrote to tell me:
Do you remember, in the early 80's when compact porta studios were in the mood, like the TASCAM portastudio (4X4X2 mixdown with a compact cassette 4 tracks recorder deck running at 3 3/4 ips). AKAI went on the market with a 12X2 mixdown console including an amazing 12 tracks cassette recorder. Well, the cassette tapes used in this device were the same that the ones used in the VT-300. Note the tape threading system, of the MG-1212, is called "Lambda" on this deck. The tape required is a MK20 (M probably stands for 'multitrack' instead of the VK30 where V stands for 'video') cobalt coated and offers 10 min. if used at 7 1/2 ips and 20 min if used @ 3 3/4 ips. So we can assume that the total tape length is 114 meters. I saw some for sale once for a mere $23 (US). Here is a photo of the Akai MG-1212: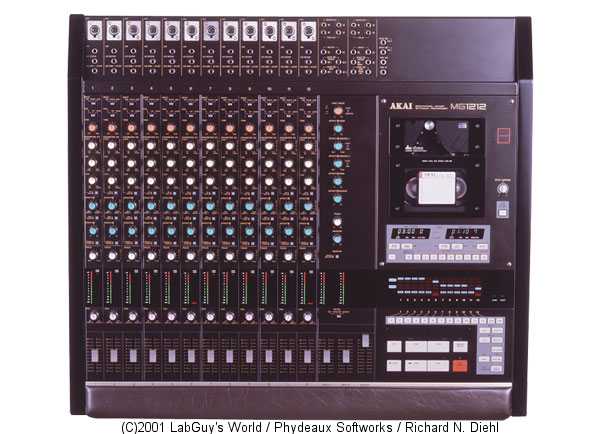 Akai MG-1212 ~ 12 channel / 12 track audio recording mini-studio!

.
WOW! I did not know that! Here, in the following photo, is a comparison of some modern tapes with the VT-300 tape. The VK-30 cassette is almost exactly the same size as the smaller of the two Betacam tapes! Does anyone remember if the VT-300 format was called, "A c t i v i d e o"? (. . . or did I just dream it?)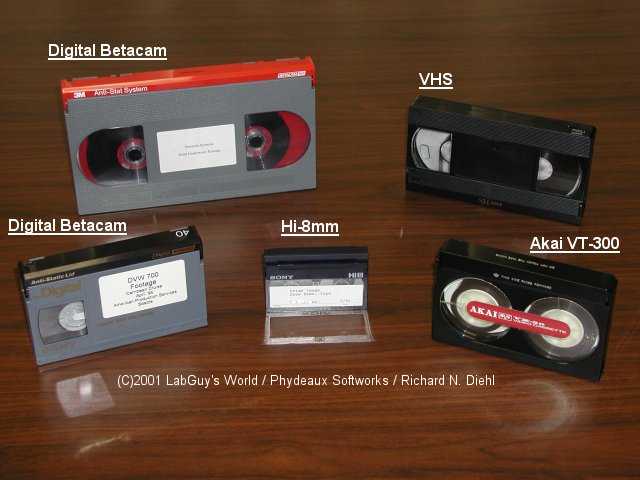 Akai VTS-300 VS Several Contemporary Formats!

.
NEEDED: Service and operators manuals, the VA-300 AC adapter / charger, the missing VM-300 sidecar video monitor and/or VF-300 camera viewfinder.

---
New Photo and Info! 01.05.22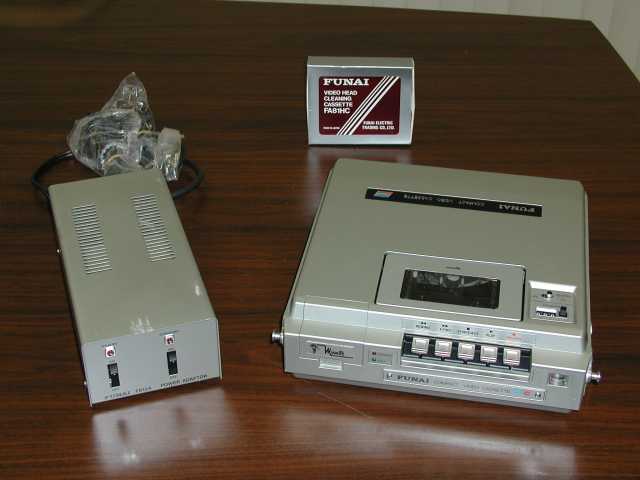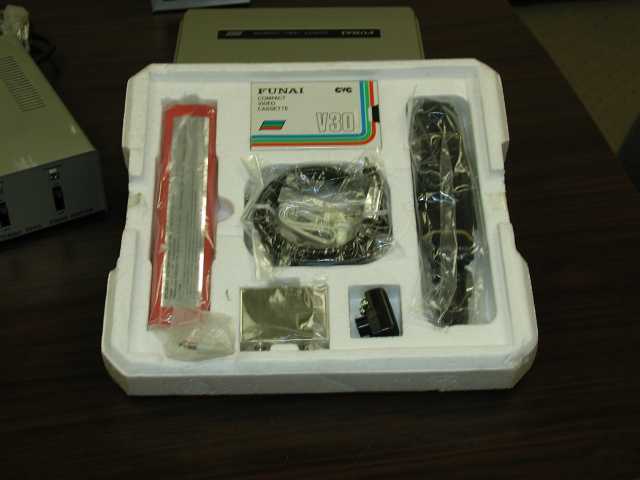 A complete 1981 Funai Model F212A 1/4 inch CVC format portapack outfit!
.
Vintage early 1980s. Japan's Funai joined forces with Technicolor to create and market the Compact Video Cassette (CVC) system in the early 1980's. This unit precedes the more common Technicolor named model (to follow). LabGuy's World obtained this unit, complete in the original box, with all of the accessories intact! A big surprise was the (must be) very rare CVC head cleaning cassette seen in the first photo. It appears that this system has only been out of its box only a few times over the years.
---
New Photo and Info! 01.05.22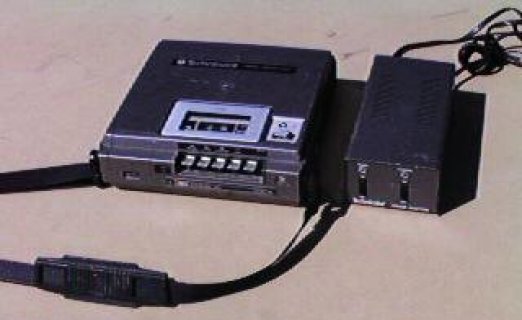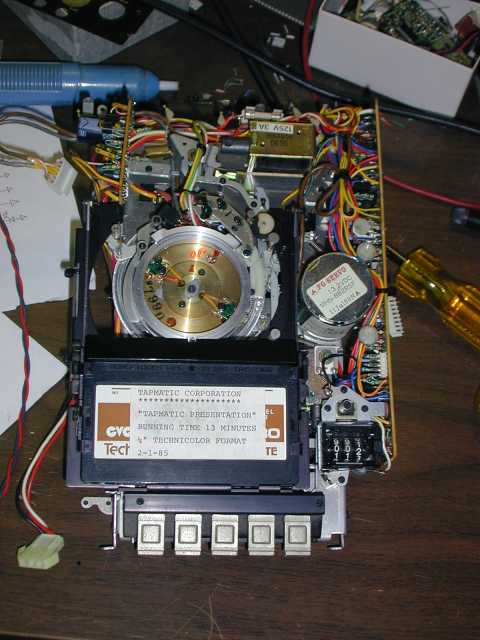 Technicolor (Funai) Model 212D 1/4 inch CVC format portapack.
.
Vintage early 1980s. Japan's Funai joined forces with Technicolor to create and market the Compact Video Cassette (CVC) system in the early 1980's. This was the lightest and most portable recording system of it's time. Widely known as the "Technicolor Format," it used quarter inch cassettes that were generally only available in a 30 minute length - a factor that contributed to the format's downfall. In the late 80's, a few desperate retailers stuck with large inventories of unsold CVC units tried to unload them as 8mm VCR's." The picture quality that I saw this format produce back then was better than some VHS models of the same period.
A separate Color television tuner unit was available for use with this VCR. It was known as the model 5112. (Shown in the second photo, under the VCR.) It plugs into and gets its power from the Technicolor 212 VCR. As far as the VCR is concerned, it's just like a camera! This is a very clever product. Since it has the standard 10 pin plug, it will probably work on a camera adapter! Stay tuned!
The last image shows the intricate internal VCR mechanism (with a tape stuck in it). My misfortune, of having the loading belt break, is your gain! Since I had to open this baby up to get the tape out anyway, I snapped a photo of it's guts. Back in 1981, the first time I got a chance to peek inside one of these, I was totally blown away buy how tiny it was! Of course, by today's standards, this is a monster compared to say a DV-CAM deck with its diminutive dime size head drum.
As of May 2001, I have many of these Technicolor VCR's, but none of them are working. See the next sentence. . .
WANTED: Service and or Operators manuals for these units. PLEASE?
---
New Addition 01.04.27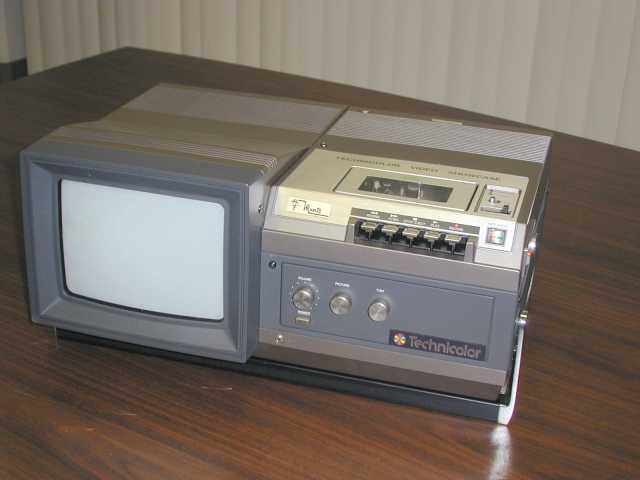 Technicolor (Funai) Model 335D 1/4 inch CVC format "Video Showcase".
.
Vintage early 1980s. This model is also in the Compact Video Cassette (CVC) system developed in the early 1980's. A unit like this would have been carried about by a traveling salesman for "on the spot" video demonstrations of a product line. This model is a VCR and 9" color monitor only. The model 412D also contained a television receiver, making it an all around micro portable video entertainment system. All models have a 10 pin EIAJ connector for accommodating an optional color camera.
WANTED: Service and or Operators manuals for this unit.
---
Click here to:
Go to: Extinct Video Time Base Correctors
Return to the Exhibit Index
Return to The Top of LabGuy's World
Last updated: June 09, 2003