Just got this machine (exactly like the one in the first photo), number five in my collection, from Charles Bensinger. Mr. Bensinger is the author of Petersen's Guide to Video Tape Recording, published in 1975. Shown here on the right. This book was one of several that drove me insane enough to enter this hobby as a teen ager while still in high school.
In photos #3 and #4 above, I highlight and then show one of the two video recording heads. I recently obtained a digital microscope and it is obviously perfect for the job. Getting good photos of the head tips has been an on going problem here. Check out the fascinating metalic texture of the scanner face, just above the video head tip.
This machine is alleged operational. So, you may be wondering why the covers are off of it. Good question, sad story, really. I have a small reel of Shibadden tape that I presumed was recorded on one of these machines. I was wrong. It is recorded in the EIAJ format and thus is incompatible on the SV-700 which does not conform the Type 1 standard established in 1969.
I tried to play this tape and of course it did not produce video, though the sound track was fine. I thought perhaps the machine had malfunctioned during shipping.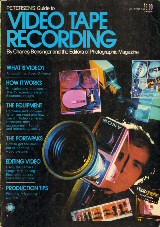 So, I opened the case and started blindly adjusting the servo board. After doing this for a few minutes it dawned on me that the tape could be in the wrong format. DOH!
Needless to say, I got excited and did not think. AGAIN! Happens to me all the time too! So, thanks to one of the many great friends of Labguy's World (Thanks, Radio Rick!!!), and there are SO many, a proper format test tape is "in the mail" as we say. I expect it will play back much better than my current tape. Stay tuned please!