LabGuy's World: Toshiba GV-212 Half Inch EIAJ VTR
---
New!
0
60511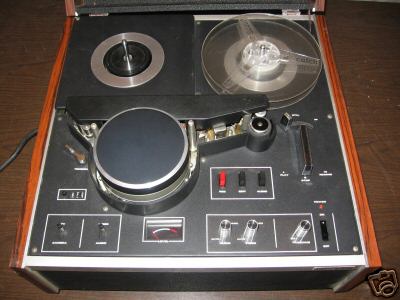 Toshiba GV-212 Color / Stereo / Editing EIAJ VTR
(Original photo from Ebay, posted temporarily)
Other than the VTR itself, I have virtually NO information on this series of equipment. [Can you Help?]
This is a very fancy color? EIAJ record / play deck. The GV-212 appears to have limited editing functions as well. Very similar to the [Ampex VR-420], made for Ampex by Toshiba. The Ampex deck records and plays EIAJ standard color and has stereo audio capability to compliment the [Ampex Instavision] system in development in the late 1960s. Housed in a beautiful real wood cabinet, weighing approximately 50 pounds (23 kilos), the GV-212 may be heavy to move, but it looks great! Also noteworthy of this model, a rotary transformer, instead of slip rings, is used for coupling signals to the rotating heads. More photos and details coming soon as they are available.
NEEDED: Service manual and or Operators manual and or any other literature about this product.
---
[HOME]......[VIDEO RECORDERS MUSEUM]
---
Created May 11,2006 Last updated: May 12, 2006