LabGuy's World: 1963 MVR-11 One Inch Video Tape Recorder
---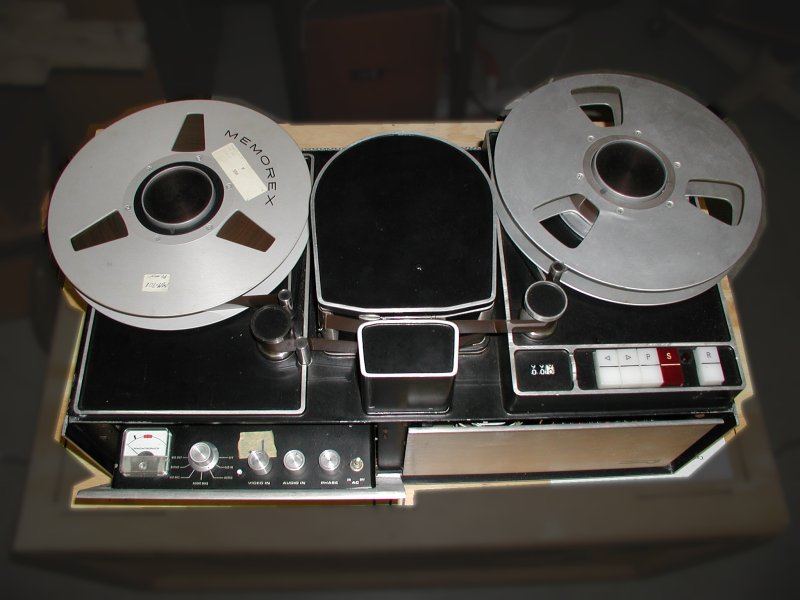 1963 Machtronics MVR-11 One Inch Video Tape Recorder

.
Here is a very rare item. Brought to you by the courtesy of Carl Kissner. Thanks Carl! This is probably the earliest commercially available one inch VTR, not counting its predecessor, the MVR-10 which is rumored to have had a small built-in video monitor. Received this VTR as of January 2005. The condition is incredible considering its age. It will require some work before it could run again. But, as a display item, it's brilliant! This VTR was delivered with all of its manuals, a tape, a card extender for servicing, power cord and all in its original packing crate! Included documentation and correspondance precisely dates this machine to June, 1963.
.
This VTR is black and white only, though I have heard that some were converted to color operation. I have no details as to how this was accomplished. Audio is mono only (one channel) and there are no provisions for any sort of time code or remote control. All user adjustments are concealed behind a fold out access panel. These include the normal audio and video record level as well as the ubiquitous tracking control. A small meter is provided for setting things precisely.
.
From all outward appearances, this machine is identical to the [Precision Instruments PI-3V], also from 1963. Can anyone verify that the two models are interchange compatible?
.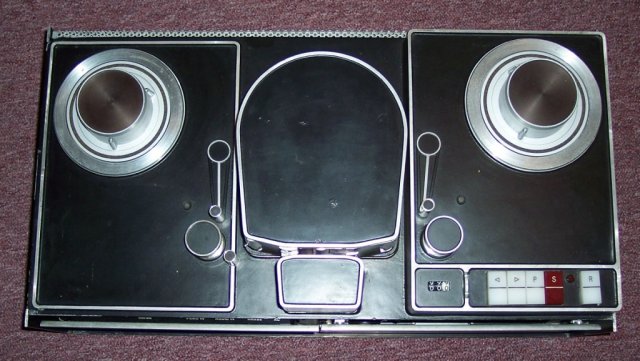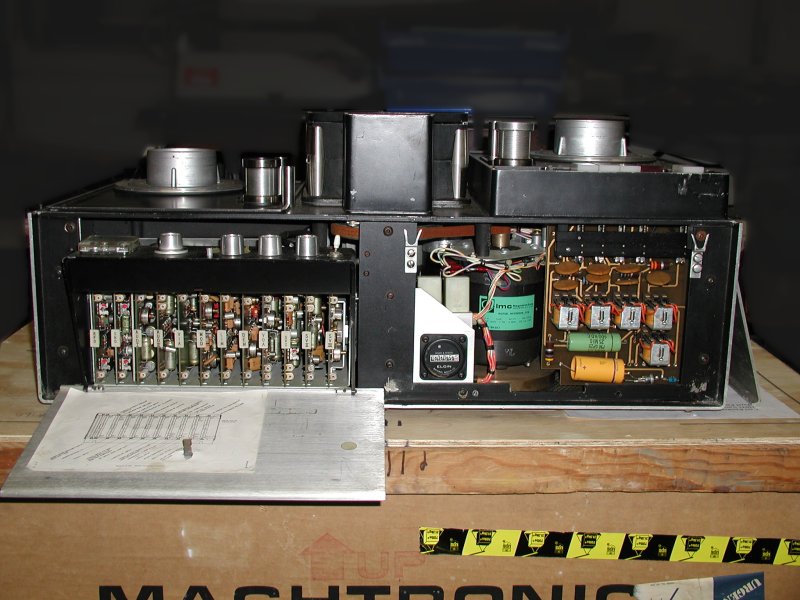 Top View of VTR, Service Access Panels Open & Rear Connector Panel

.
Layout of this VTR is elegant. Threading tape is fairly straight forward for the well coordinated. Servicing the VTR is easily accomplished through front panel access ports. The electronics are mostly located on the plug in printed circuit boards on the left side of the frame. The right side allows limited mechanical access as well as access to the relay logic board and to the hour meter. Which in this case reads only 117 hours. Very low mileage indeed!
.
Notice that one rear panel UHF jack, between the audio input XLR connector and AC power input, has no label. This is not shown in the service manual. I am presuming, until told differently, that this is the external reference sync input. To be able to broadcast the VTR's output video, or even to mix it with other in-house video at the SEG, the VTR must be synchronized to the house master sync reference. B/W VTRs of this era were typically constructed to meet the FCC timing requirements for B/W broadcasts without the need for a velocity compensator or TBC. Though, using one is just that much better.
.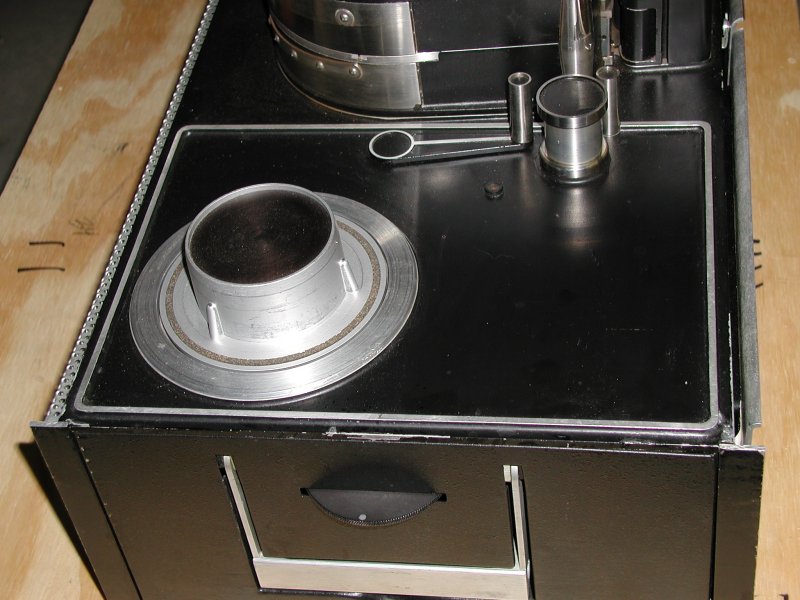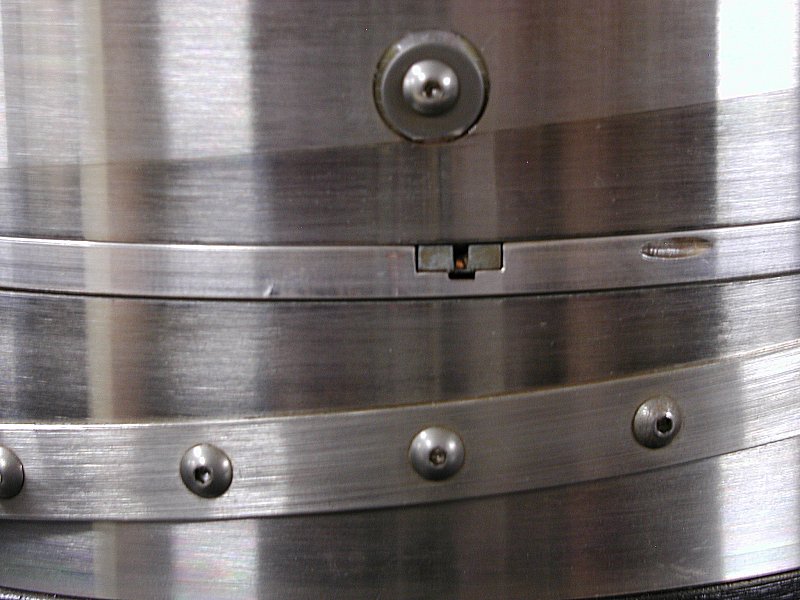 Tape Tension Control & Close Up look at the Video Head

.
Tape tension is adjusted by way of a wheel that protrudes from the left side of the machine. The wheel has a center detent position which is the proper positioning for record mode. It would be adjusted during playback as necessary to align the video vertical interval or, in layman's terms, to eliminate flag waving distortion at the top of the picture. It works by adjusting the bias on the brake band / tension lever combination. The tensioning system assures that the tape is stretched exactly the same amount during playback as it was during recording. Temperature and humidity effect the tape enough that minor adjustments are almost always necessary. The video tracks are so tiny and so long, that any distortion of the tape or tape path will cause measurable errors in the playback signal.
.
The second photo shows the face of the scanner drum. The upper and lower portions of the drum are stationary. Two video record / play heads are attached to a head disc which protrudes and rotates between the fixed faces. The two video heads are positioned precisely 180 degrees apart. The video head is the tiny black sliver in the center of the image. Look closely and you can see the copper wire that comprises the video head's coil. The small hole to the right of the video head contains the video head locking screw. Above and below the video head disc are the tape positioning guides. The bottom guide is referred to as a "guide band". The round upper guide keeps the tape from riding up from the guide band under tension. Needless to say, all of these elements are aligned to fanatical precision. That tiny video head must retrace the originally recorded track precisely. Compared to its own width, the video track is extremely long and video tape is very flexible. It is a miracle these machines can be made to work at all. You can see clearly where tape has polished the face of the scanner assembly.
.
Machtronics was founded by [Kurt Machein]. The lead engineer on this VTR project was [Fred Pfost], of Ampex's VR-1000 design fame. Mr. Machein was also an employee of Ampex, as I understand. More information needed about this company, it's people and its products.

MVR-11 SPECIFICATIONS:
SIZE:
10-3/8" High
24-7/16" Wide
13-7/32 Deep
(26.67 cm x 62.23 cm x 33.65 cm)
WEIGHT:
65 lbs (29.6 Kg)
Reel Size:
10-1/2 inch (26 cm), 3600 feet (~1200 M), A Wind
Tape Width:
1 inch (2.54 cm)
Recording Time:
96 minutes on 10-1/2 inch reel
@ 7-1/2 inches / second
Start Time:
4 seconds
Rewind Time:
3 minutes for 10-1/2 inch reel
Input Video Level:
0.5 - 2.0 Volts composite video signal, 75 ohm terminated.
Output Video Level:
2 Outputs, 0.5 - 2.0 Volts
composite signal, 75 ohm source
terminated, unbalanced.
Video Frequency Response:
+/- 3db from 10 Hz to 3.5 Mhz,
referenced to 100Khz, down no
more than 6 db at 3.8 Mhz
Video Signal to Noise Ratio:
40 db rms noise to peak-to-peak video or more
Audio Inputs:
Unbalanced line,
200 K ohms, -10 db min.
Hi Z Microphone: 1 mV min.
Audio Output:
+6 dbm into 600 Ohm unbalanced line
Audio Frequency Response:
+/- 2 db from 60 Hz to 10 Khz
Audio Signal to Noise Ratio:
40 db or more
Power Requirements:
117 VAC, 60 Hz, 350 Watts (approx.)
---
[HOME]..........[VIDEO RECORDERS MUSEUM]
---
Last updated: January 12, 2005