LabGuy's World: Kurt Machein, founder of Machtronics NEW! 05.01.13
---
Inventor Kurt Machein - His hard work gaves all of us a lot to enjoy
.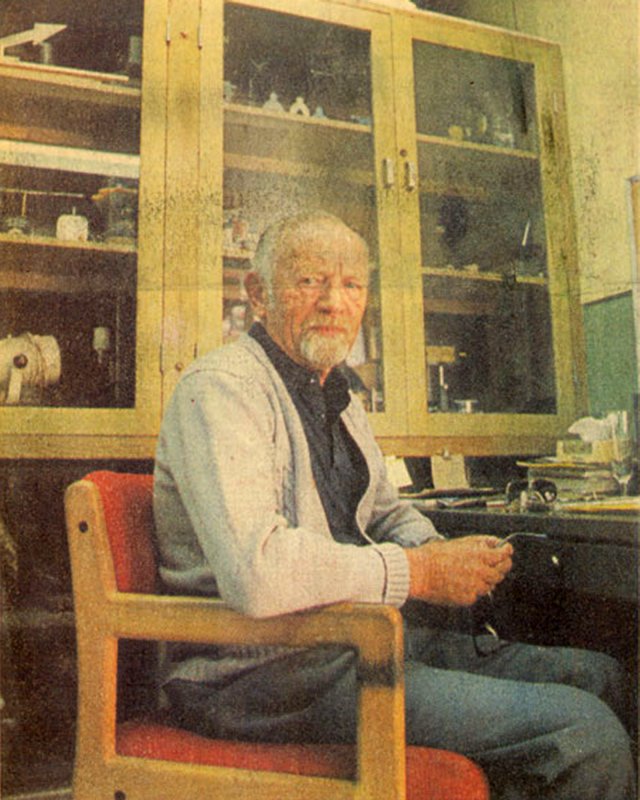 By Ann Gibbons Times Tribune Staff
(Interviewed in 1985)

.
Kurt Machein has made a career of inventing electronics devices that others said could not be built.
The Stanford University research engineer built the first portable video tape recorder - even though majaor American electronics firms told him it couldn't be done.
He made possible the first live close-up television pictures from the moon.
He won an Emmy award for inventing the slow-motion, instant replay technique used on television.
For the German immigrant who couldn't find a job when he first arrived in the United States in 1954, the success is sweet - although his inventions have made more money for others than himslef.
"Money never was my motiviation," Machein said in an interview at his Palo Alto home last week. "I found everything I needed for professional satisfaction in this country.
"It only bugs me when people ask me, 'Why aren't you a multi-millionaire?'"
Today, he says he is rich in good fortune and has accepted the fact that the companies he worked for are the ones that profited most from his patents.
At 66, after retiring from the corporate "pressure cooker," he says he has the ideal job at Stanford.
Since 1978, he has prepeared more than1,500 demonstrations to illustrate the basic laws of nature for physics students.
He says he is happiest spending his time behind the scenes at Stanford, doing what he loves most - designing mechanical and electrical devices.
"I knew from the first time I touched a wire what I would do,"Machein said. "I drove my parents crazy with little batteries and wires and such.
At the age of 8, machein designed a remote control light switch so he wouldn't have to get out of his warm bed on cold wintry nights in his native East Prussia, now part of the Soviet Union.
His interest in electro-mechanical devices was considered "an odd thing" in the conservative farming town near the Russian border where he grew up, Machein said.
Afer he graduated from high school, his parents were proud that they had found him a prestigious job working in a bank. Machein lasted only three months.
"It just wasn't my cup of tea," he said with a chuckle. "I then had the terrible task of going to my dad and telling him, 'I'm not going back.'"
His parents responded with considerable understanding and generosity and sent him to engineering college.
As soon as he received his degree in electronics, he was drafted, spending two years as a soldier in the German signal corps on the Russian front.
When Machein was discharged in 1943, he was assigned to the Luftwaffe's Institute for High Frequency Research in Berlin - a position he thinks saved his life because the institute intervened three times to prevent him from being drafted again.
His task at the institute was to work with some of Germany's leading engineers to develop a radar system that would rival that of the Allied forces - while at the same time being bombed out of one laboratoy after another.
The group was working in a mountain-top laboratory in Slazburg, Austria, when they heard that the war had ended.
"I remember waiting to see who would find us first - the Russians or the Americans," MAchein said. "You can imagine our relief when we saw an American jeep coming up the hill. I still remember the American's name - Captain Blackburn."
For the next year, Machein worked with the U.S. Army to establish a micro-wave communications link across Germany. Then he joined the telecommunications department of Siemens A.G., a major German electronics conglomerate.
"I had all of the reasons to be happy, but I wasn't. I did very well - I even had a sports car. But I was very bitter. First of all, I was a refugee in my own country." said Machein, whose home was now part of Russia and off limits to him.
"I thought since I can not go home anymore, I might as well leave the whole kaboodle behind me."
He and his wife, Ilse, a mathematician, applied for visas to emigrate to the United States - and waited seven years before they were granted.
By that time, they had a daughter, Monica, and a lot to lose when they sold everything to pay for passage to the United States in 1954.
But they came anyway, because "that's where all the action was in technical terms," Machein said.
They headed west to California, because Machein had seen a lot of American movies and traveled with American GIs who convinced him that California was a "dream."
"I was so naive. I wan't a fraid at all," Machein said. "If my bosses in Germany were pleased with me, why shouldn't they like me in America?"
"I had a little surprise waiting for me here - the McCarthy era," Machein said. "I just had to open my mouth and the interview was over" when they heard German accent.
By chance, Machein ended up in Palo Alto where Stanford professors Walter Meyerhof and Wolfgang Panofsky offered him a job building electronic equipment for the High Energy Physics Laboratory, an experience that he said "was about the best thing that has happened to me... It's incredible all of the breaks someone gets."
He also was deeply moved that those two men, both of whom were reared in Germany and abhorred the persecution of the Jews, would hire him when others wouldn't.
He worked at Stanford until he heard about work on a super secret project led by Charles Ginsberg At Ampex to designa videotape recorder.
Machein was hired to make sure the new recorder could be adapted for the world's four different TV standards.
Although the group had designed the first video recorder, it had one major shortcoming - the two inch wide tape could only be edited painstakingly by hand with a razor blade.
In 1961, Machein figured out how to edit the tape on a machine by inventing "electronic editing" - in time to bid on an Australian's order for 16 video recorders that could edit the tapes without cutting them.
"Everyone said you're crazy. It can't be done," Machein said. "I was in marketing at the time and I wanted the order so much, I got the use of a couple video machines and figured how to edit the tape electronically."
He also faced skepticism when he proposed building a "portable" video recorder, which could replace the behmoth recorders of the day that filled entire rooms with extraneous equipment.
His interest in building a new portable recorder, along with his growing frstration with changes in Ampex's management, prompted him to found his own firm, Machtronics.
.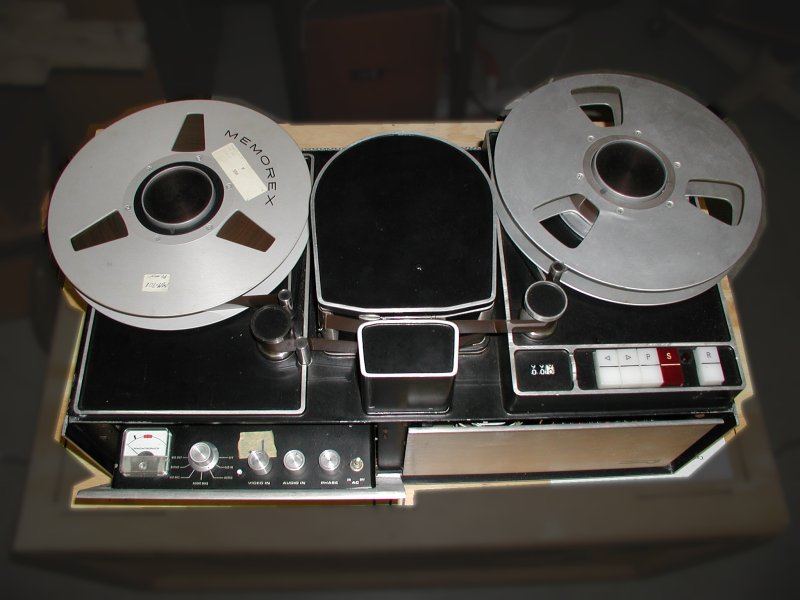 1963 Machtronics MVR-10

.
In 1962, with $90,000 in investors' capital, he started work with a small team of engineers whose motto was, "Make it simple and make it work," Machein said.
"I like simple sollutions to complex problems," he said.
Within a year, the team had designed the world's first portable video recorder.
They also designed the video disc recorder, whcih was the first machine that could be used to show an "instant replay" in slow motion.
.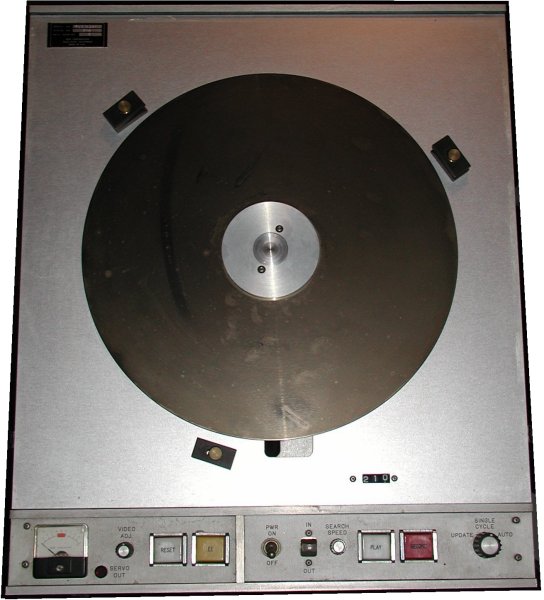 1966 Slow Motion / Instant Replay Video Disc

.
The first customer to use the new disc recorder was the National Aeronautics and Space Administration, which needed the unique machine to transmit to Earth live TV pictures from the Apollo 8 spacecraft orbiting the moon.
Machein still is amused, hwoever, that the public and media only became aware of the new recorder when it was used to show live, slow-motion pictures during a Baltimore Colts football game in 1965.
"Probably the most recognition I got was from a football game," he said.
The national Academy of Television Arts and Sciences also recognized the value of the new dvice and awarded Machein's firm an Emmy in 1966 for the out-standing engineering achievment.
The Emmy is on display in Machein's home today, not far from the wall of family photos that show the German immigrant and wife dining with actress Eva Gabor at the Emmy Award ceremonies and talking with Bing Crosby.
But, as he points out the photos, it is clear he is most proud of his family: his wife, Dr. Ilse Machein, who now is a clinical psychologist in private practice in Palo Alto; and his two grown daughters, Monica, a teacher in Los Angeles, and Candace, a social counselor in Chicago.
"You have to be backed," Machein said. "We are a very close family. We are the only family we have."

Original Article Scans: Machein-1985_001.jpg -- Machein-1985_002.jpg

Article contributed by: René White 05.01.13
---
[HOME].........[VTR PEOPLE]
---
Last updated: January 13, 2005