Read the back of my Gadabout Gaddis Cartrivision Cassette
---

---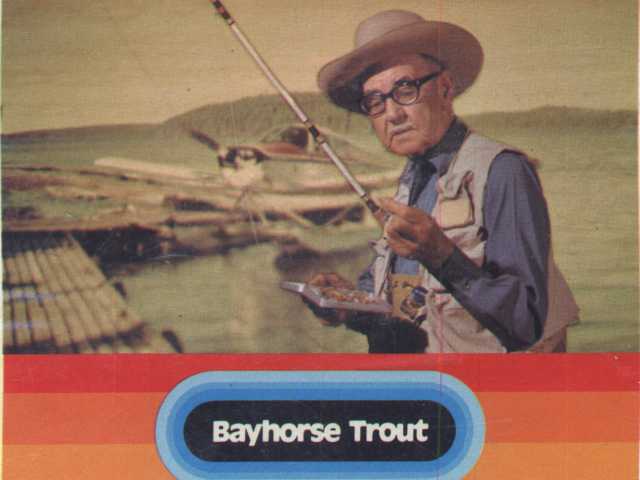 Click on Gadabout's picture to view it full size. Use your back button to return here.
---
Gadabout Gaddis - Bayhorse Trout (On the back side of the tape)
.
Nothing fancy or sophisticated. Just fishing and enjoying it in the great outdoors, with the world's most famous angler, Gadabout Gaddis. You might call it: taking Thoreau seriously. "Fishing is more than just catching a fish," reflects Gadabout, "It's soaking up nature and all its marvelous wonders."
.
Can he fish? He can! . . . and has in just about every place in the United States, Mexico and Canada, over the past sixty years. And, no faking for the camera either! You see Gadabout catching fish. While a crowd watched skeptically, he once snared over seventy bass out of a local "fished out" lake near Schenectady. Not too long ago, while the reports said, "No Fish In The Bay", he astonished Cape Cod fisherman by racking up 124 striped bass in a brief four afternoons. He is the angler par excellence, and a dedicated conservationist. If you are not a fisherman now . . . you may be after a session with Gadabout Gaddis.
.
If you've never been to central Idaho, you're in for a rare outdoor treat. Bayhorse Lake, near Clayton, Idaho, is up an unpaved dirt road, in one of the most beautiful, primitive wilderness areas still left in the country. It is about a half a mile wide and packed with Rainbows and Browns. It's one of those wonderful, secluded bodies of water you'd never find, unless somebody told you about it. That Gadabout Gaddis does as he takes you there, and shows you how simple fly or spinning equipment can yield fish as fantastic as the surroundings.
.
CARTRIVISION
(Transcribed to HTML form, by Richard N. Diehl April 13, 1998)
---

---
Click here to:
Return to the LabGuy's Extinct Video Cassette Recorders
Return to the LabGuy Chronicles
Return to The Top of LabGuy's World
Last updated: July 28, 2002