LabGuy's World: 1966 MVR 100S-2A Magnetic Video Disc Recorder
---
New photos! 050111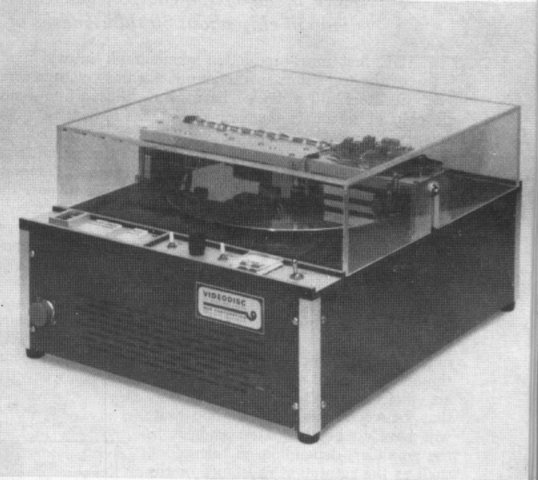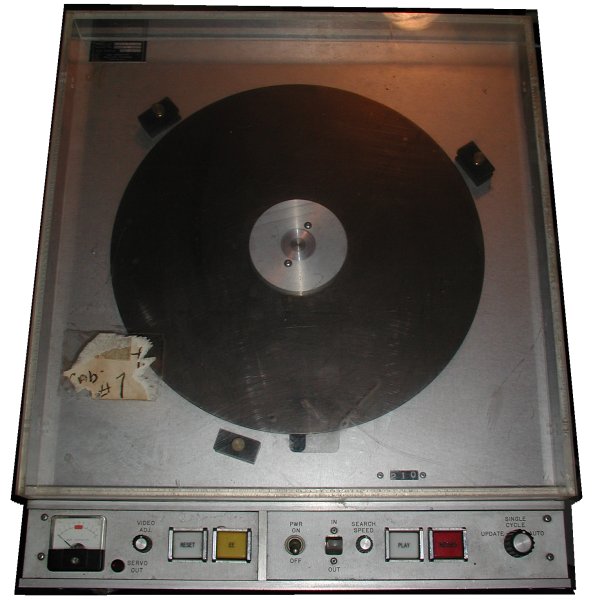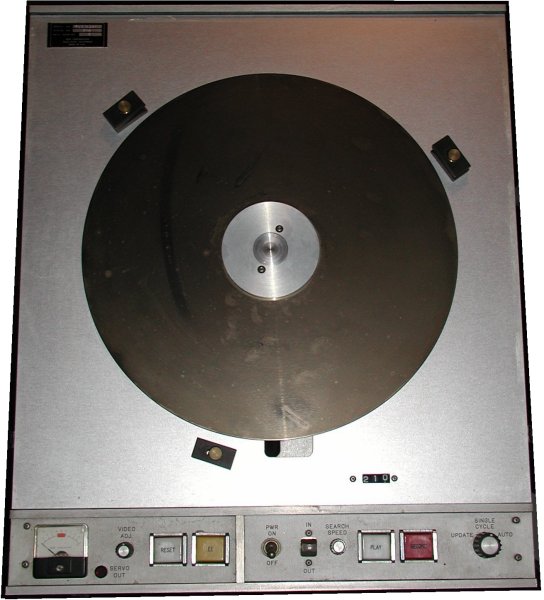 1966 MVR-100S-2A Instant Replay Magnetic Video Disc Recorder / Player
(Historical photo, recorder with & without the transparent lexan top cover)

.
This was given to me a few years ago by Bob Rosenbloom. Since then it sat on a shelf in my living room for years. Then in various storage lockers for several more years. Then it was one of the first items posted on this site in 1997. (Sorry for the bad picture all those years!) I had no idea what the story was behind this thing. But, it did look great! Little did I know I was in possession of some real history.
.
It turns out to be an instant replay video recorder, made by MVR Corp. of Mountain View, California back in the mid 1960's. One of the first of it's kind, a real historical artifact! I can not tell you much about operation. I lack documentation and have never run one of these. It would also require extensive restoration before it would be safe to operate. But, it does appear to be "all there".
.
On my disc recorder, as compared to the unit in the first photo, the recording head and lead screw drive are below the disk platter. The machine in the first photo has two recording head assemblies, one on each side of the platter. With double sided drives, alternate frames are recorded on opposite sides of the disk so one head can step while the other plays or records. With only one side, motion effects become impossible because each time the head steps, there would be a loss of signal. For transport, there are three lock down blocks around the perimeter of the platter, visible in the photos. These clamp the disc solidly in place with simple thumb screws.
.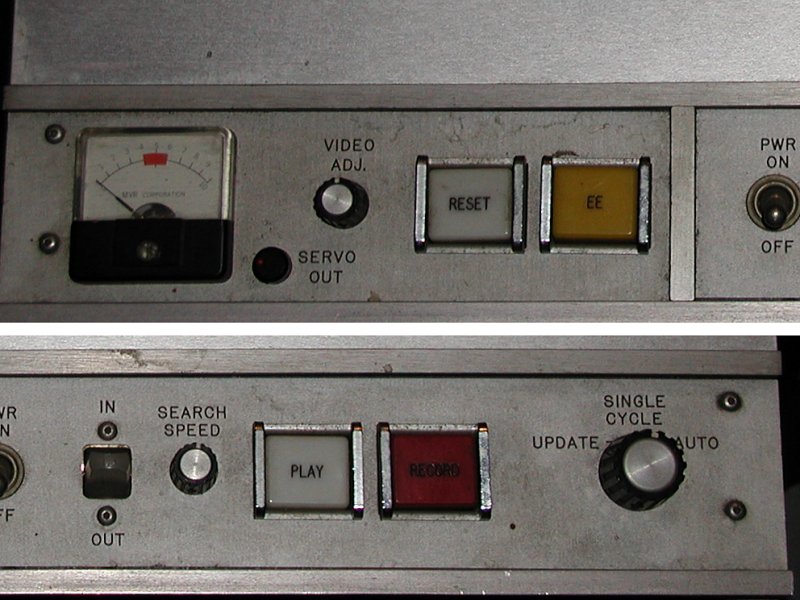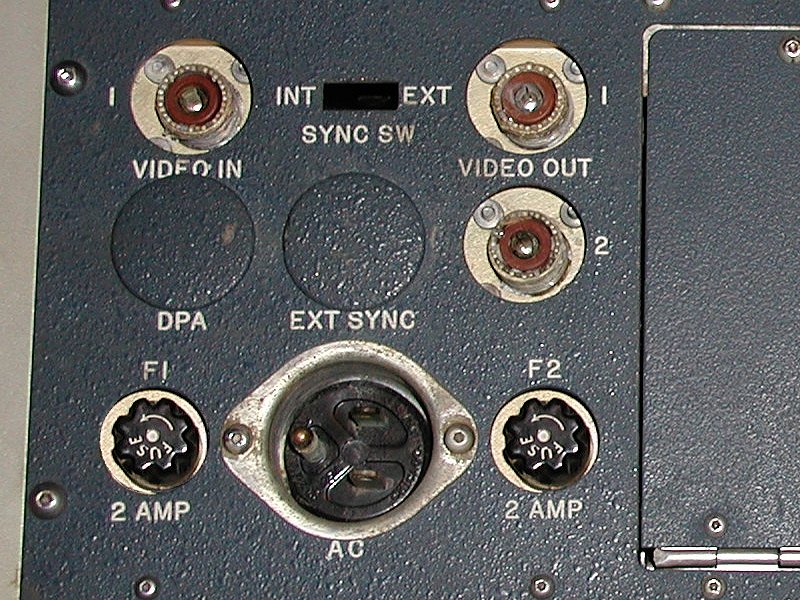 Right and Left sides of the Control Panel and Rear Connector Panel

.
I presume the S suffix of my unit's model number stands for "single sided", making this a 10 second / 300 frame machine and quite likely a still store. If you look closely at photo #3, you can see the counter is at "210", most likely the frame & track number where the head was last parked. The disc looks a little bit worse for wear. It is heavily oxidized on the surface I can see. I wonder what may be recorded on it?
.
According to some chatter I found on the [CBS Retirees] discussion board and web site, this product actually predates the Ampex unit by several months. It failed because it was not color. If you know any of these individuals, feel free to ask them to contact me. This machine has a CBS property sticker and may very well be the machine they are talking about!
.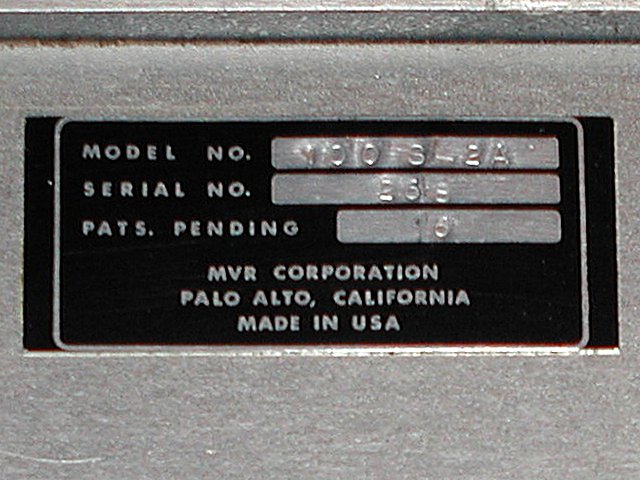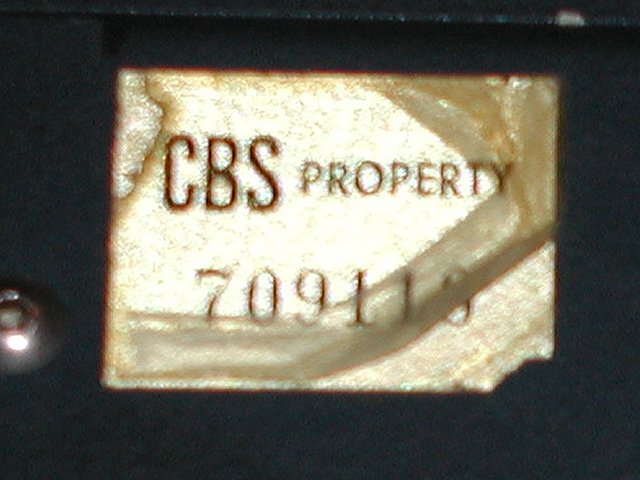 Original Production Tag and the CBS property tag
.
The following is the text that accompanied the historical magazine photo:
.
A portable magnetic disc recorder is now widely used by U.S. and European television networks to insert instant video replays, including stop action still pictures, into live sports telecasts. This recorder has now been adapted by it's manufacturer, MVR Corp., for broad range of scientific, medical and industrial applications. The new device stores up to 20 seconds of signals from a live TV camera on the top surface of a 12 inch aluminum disc coated with a nickel cobalt recording medium. The 20 second recording can be immediately played back for the TV audience as a continuous sequence or as stop-action pictures. Cycling from record to playback requires 1/5 second.
.
(Text and photo #1 are from Electronics World Magazine - December, 1966. I corrected an error in this text. EW called the company MVK, an possible transcription error from hand written notes. LG)
.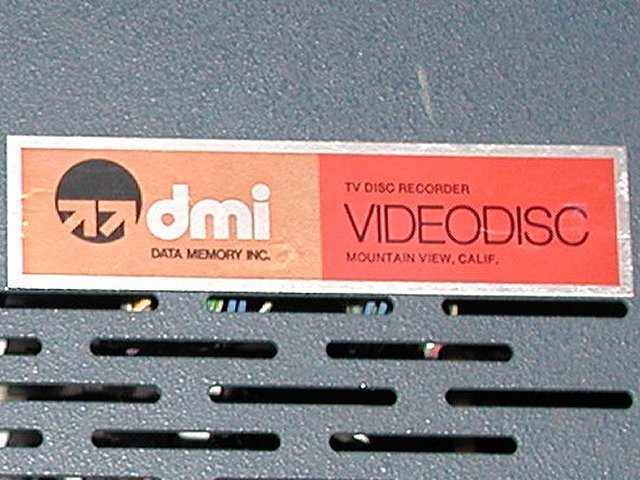 Another sticker for Data Memory, Inc. (An OEM?)
.
As I investigate this item, the surprises never cease. This machine was manufactured by MVR Corporation, formerly known as Machtronics. These two businesses are the work of [Kurt Machein], a German immigrant who developed the fist portable video tape recorder, the [MVR-11], and of course this very slow motion video disc recorder!
---
[HOME]......[VIDEO RECORDERS MUSEUM]
---
Last updated: January 24, 2005